On September 6, 2023 West Red Lake Gold Mines (TSXV:WRLG) (OTCQB: WRLGF) CEO Shane Williams sent part one of seven communications to WRLG shareholders.
Williams has designed, built and operated mines around the world – for Skeena Resources, Eldorado Gold and Rio Tinto.
CEO Message Part 1: An Introduction to West Red Lake Gold Mines and its properties. 
By Shane Williams – CEO of West Red Lake Gold Mines 
Thank you for your interest in West Red Lake Gold Mines.
I know that you are busy and bandwidth is squeezed, so let's cut to the chase.
Our flagship Ontario asset – The Madsen Gold Mine – is debt free, fully permitted, and has a brand new 800+ tonne per day mill, a tailings and water treatment facility.
The "lower-grade" near surface zone is about 3.5 grams/tonne gold, the higher-grade zone at 500 meters averages 9 grams/tonne gold.
At its peak, the asset was valued at over a billion dollars, 10X our current market cap. There is smart money heavily invested in the current project – Frank Guistra (10%); Sprott Resource (24%).
The previous operator was under-capitalised.  Debt repayment obligations forced the company into a quick-to-cash-flow mine model that was ultimately expensive and inefficient.
I have designed, built and operated mines (open pit and underground) in Greece, Turkey and Canada – for Skeena Resources, Eldorado Gold and Rio Tinto.  Under Frank Guistra's guidance, my team conducted three months intense due-diligence on this project. It is clear to me and our technical team, the problems with this mine had to do with management strategies, not the asset itself.
Geologically, metallurgically, politically and environmentally we are not aware of any big negatives with this mine.
We purchased this asset for pennies on the dollar when nobody cared about gold. Investors are starting to care now. With global debt levels reaching $305 trillion, we anticipate the gold price reaching new highs.
The Red Lake District is one of the most prolific gold districts on the planet with over 30 million ounces produced. Our 47 Km2 land package is 13 X bigger than NYC's Central Park.
Next week in Part 2 of my message to shareholders, I will explain how the previous operators got it wrong, and how we are getting it right.
Sincerely,
Shane Williams
We invite you to click on this button to learn more about West Red Lake Gold Mines.
On September 6, 2023 WRLG announced the beginning of surface drilling at the Wedge target, located about two kilometres southwest from its 100% owned Madsen Mine in the prolific Red Lake Gold District of Northwestern Ontario, Canada.
"The drilling program will consist of up to 3,000 metres with the goal of growing and upgrading the existing mineral resources at Wedge," stated WRLG. "Which currently contain an Indicated mineral resource of 56,100 ounces grading 5.6 grams per tonne gold, with an additional Inferred resource of 78,700 oz grading 5.7 g/t gold.
HIGHLIGHTS:
Surface exploration drilling to commence at the Wedge target – located 2 km southwest from the Madsen Mine

Drilling will be focused on extending high-grade zones at Wedge and increasing confidence in the overall mineral resource

Wedge currently hosts an Indicated resource of 56,100 oz of gold grading 5.6 g/t Au1 and an Inferred resource of 78,700 oz of gold grading 5.7 g/t Au1

The Wedge resource sits adjacent to the past-producing Starratt-Olsen Mine which historically processed 823,554 tonnes grading 6.16 g/t Au for approximately 163,000 oz of gold[2]

Previous drilling highlights from the Wedge target include:

Hole PG17-486 Intersected 10.33 m @ 24.94 g/t Au, from 16.67 m to 27 m

Hole PG17-467 Intersected 16.6 m @ 17.49 g/t Au, from 11.45 m to 28 m

Hole PG17-482 Intersected 14.4 m @ 8.35 g/t Au, from 28 m to 42.4 m

Hole PG19-643 Intersected 1 m @ 108.5 g/t Au, from 103 m to 104 m
"Our team is very excited to be back drilling near the Madsen Mine asset," stated Williams. "We view Wedge as a key component in our overall vision of staying committed to exploration and unlocking the full potential of all our high-grade assets in the Red Lake Mining District."
"With Wedge being located just 2 km away from the existing mill facilities at Madsen," continued Williams. "On fully patented claims and directly adjacent to the past-producing Starratt-Olsen mine, we can see a clear path forward for permitting at Wedge and view it as a high-caliber candidate for a future mill-feed source at Madsen."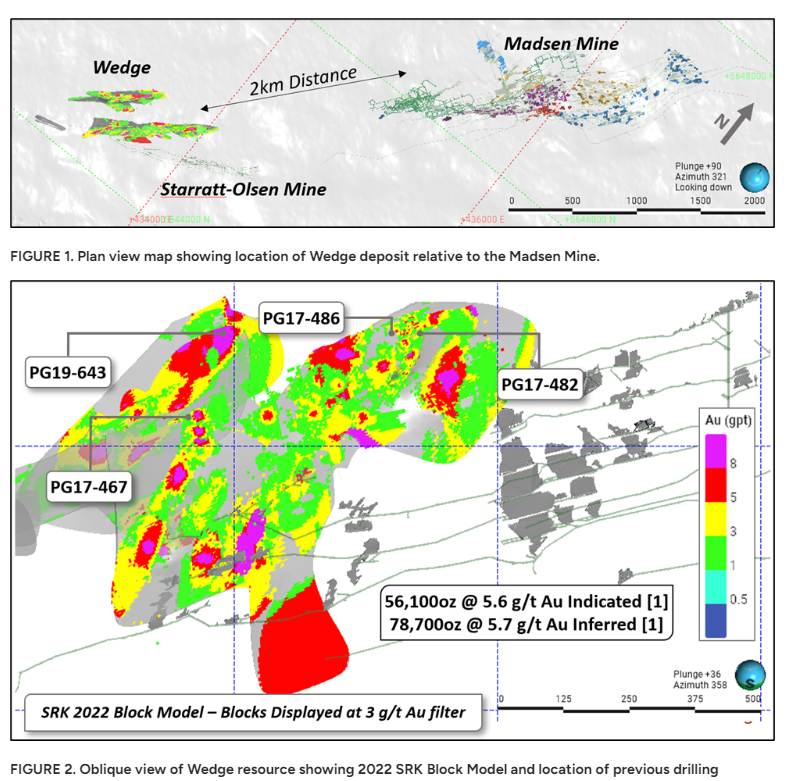 West Red Lake Gold has sold off heavily this week during a "pan-sell-off" that included bonds, metals, oil and crypto.
"A strong U.S. dollar and elevated U.S. Treasury yields are bearish outside market elements working against the precious metal [gold]," reported Kitco.com on September 6, 2023.
GSN is not aware of any negative material change to the company's operations or its ability to build a profitable gold mine.
Contact: guy.bennett@globalstocksnews.com