On November 6, 2023 Dolly Varden Silver (TSXV:DV) (OTC:DOLLF) released drill results from the Wolf Vein and – 1.5 kilometers to the north – the Moose Vein.
DV Silver is developing its 100% held Kitsault Valley Project located in The Golden Triangle of British Columbia, Canada, 25kms by road to tide water.
"The Golden Triangle is so named because it hosts some of the richest gold ore bodies in the world, as well as abundant silver, nickel and copper deposits," confirms BC Business. It has 1.2 billion ounces silver estimated reserves, with 214 million proven and probable.
Three Take-aways from the November 6, 2023 drill results:
1. High grade silver continues at depth
2. Discovery of significant quantities of base metals
3. Moose Vein demonstrating similar metallic profile to Wolf Vein
Wolf Vein Highlights:
DV23-375, Southwest Extension step-out: 461 g/t AgEq* (296g/t Ag, 1.68% Pb, 3.01% Zn) over 26.99 meters, including 2,260 g/t AgEq* (1,475g/t Ag, 10.65% Pb, 12.00% Zn) over 0.50 meter from an 81-meter step-out.
DV23-379, Southwest Extension infill: 287 g/t AgEq* (247g/t Ag, 0.40% Pb, 0.73% Zn) over 18.21 meters, including 1,170g/t AgEq (1,125g/t Ag, 0.14% Pb, 1.09% Zn) over 0.50 meters.
Moose Vein highlights:
DV23-371: 712 g/t Ag over 1.00 meter within a 7.55 meters length interval averaging 269 g/t Ag
1AgEq is calculated using $US1650/oz Au, $US20/oz Ag, $US0.90/lb Pb and $US1.10/lb Zn, assays are uncut
"The results we are seeing from the Wolf Vein continue to demonstrate depth continuity of the high-grade silver mineralization as well as an increase in base metal content," stated Shawn Khunkhun, President and CEO of Dolly Varden Silver. "Drill hole DV23-375 has extended the plunge length to over 950 meters with increased thickness of the potentially underground bulk-mineable mineralization and it remains wide open for expansion. With over 70 drill holes remaining to be assayed and announced we eagerly await their results."
When Dolly Varden purchased the Homestake Ridge Property from Fury, the primary objective was to consolidate assets, add size and scale. But Khunkhun and the DV Silver geological team are also exploring a hunch that two metallic zones are connected. DV needed to control both assets to meaningfully explore the hunch.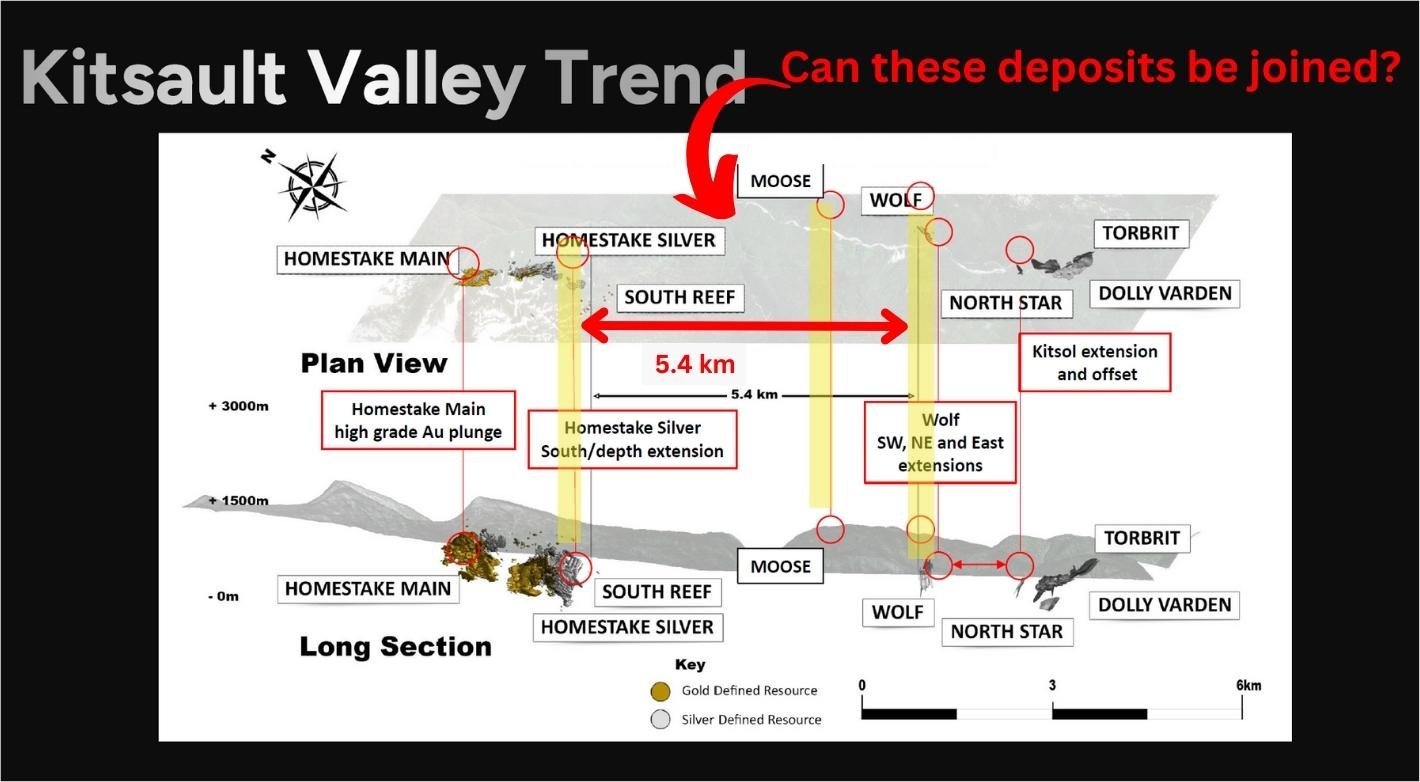 "What is special about the November 6, 2023 drill results is that these are big intercepts," Khunkhun told Guy Bennett, the CEO of Global Stocks News (GSN). "We're talking about an almost 27-meter intercept, grading at 461 g/t of silver equivalent."
This is the first time during Khunkhun's tenor as CEO, that DV has reported silver equivalencies.
"Along with 296 grams of silver, we have a significant lead and zinc kicker," confirmed Khunkhun. "As we go deeper, this base metal zone may continue to add value to the deposit. We believe the Wolf Vein is potentially amenable to underground bulk mining."
Bulk mining generally has lower mining costs associated with it, allowing for a lower cut off grade bringing in more material, increasing the tonnage per day and number of ounces mined.
"Some of these old, narrow vein deposits don't work in the modern era," Khunkhun told GSN. "You don't want to be chasing narrow veins, hand sorting material. Our goal is that Dolly Varden Silver will be an efficient, highly mechanized mine with a low All-In-Sustaining-Cost (AISC)."
"We've already have a kilometer of plunge length at Wolf," Khunkhun continued. "When we step out, we get solid hits like this. Why did Hecla put in $10 million last week? I suspect they are seeing the same potential we see at Wolf. Hecla's goal is to increase silver production in Canada."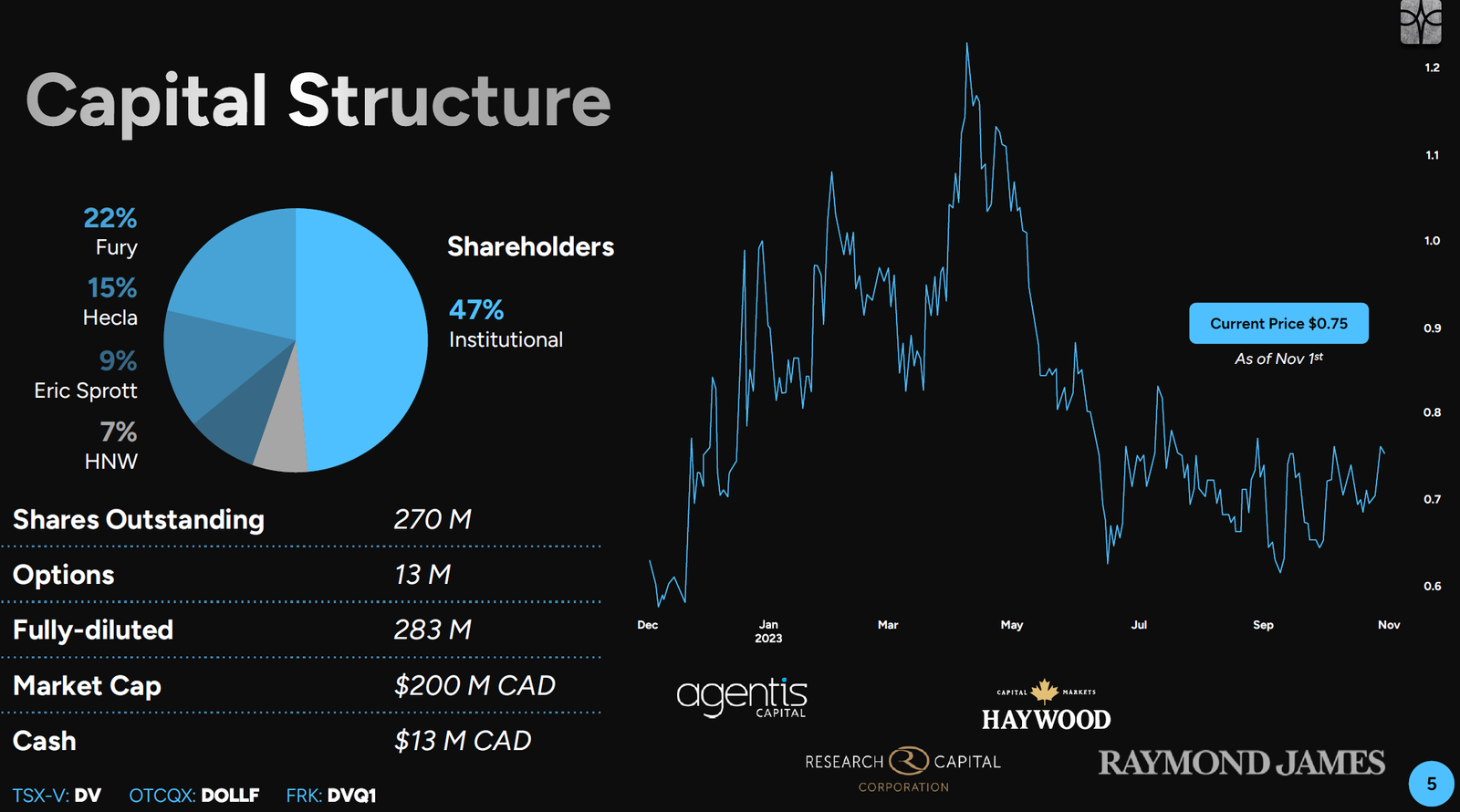 About 47% of DV Silver is owned by institutional investors (Fury – 22%; Hecla 15%; Eric Sprott – 9%).
"I audition the institutional shareholders," KhunKhun explained to GSN. "We have various entities throwing money at us at higher prices. It's tempting to take the money. But I don't want some hedge fund spontaneously deciding to rotate out of silver into uranium. It's valuable to have stakeholders who share our long-term vision – like Hecla, Fury and Sprott."
On November 6, 2023, Maurice Jackson, Founder and CEO of Proven & Probable conducted an interview with Mr. Khunkhun. Proven & Probable specialises in simplifying geological data. DV Silver sponsors the website, and Mr. Jackson is a long-term shareholder in DV Silver.
"We are very happy to welcome Hecla's increased ownership stake," Khunkhun told Mr. Jackson, "Hecla has demonstrated it is a sticky shareholder. They're looking for the end product. The $10 million strategic investment raised their stake from 10% to about 15%. We're happy to leverage their financial and technical contributions."
A total of 51,454 meters was completed during 2023 in 115 drill holes at the Dolly Varden and Homestake Ridge areas with 23,923 of those from the Dolly Varden Project area.
The Contractor's drills have been demobilized and the exploration camp has been winterized. The November 6, 2023 release includes eight holes from Wolf and four holes from Moose. A total of 31 holes for 15,860 meters were drilled at Wolf in 2023.
Contact: guy.bennett@globalstocksnews.com