In keeping up with the spirit of sustainability, Hong Kong Land (HKLB:LN) has declared that the company signed sustainability-linked loans estimated at US$882 million ($6.85 billion HKD).
Hongkong Land is a major listed property investment, management and development group. Founded in 1889, Hongkong L owns and manages more than 850,000 sq. m. of prime office and luxury retail property in key Asian cities, principally in Hong Kong, Singapore, Beijing and Jakarta.
Its properties attract the world's foremost companies and luxury brands. The Group's Central Hong Kong portfolio represents some 450,000 sq. m. of prime property.
It has a further 165,000 sq. m. of office space in Singapore. This is held through joint ventures, a luxury retail centre at Wangfujing in Beijing, and a 50% interest in a leading office complex in Central Jakarta.
The Group also has a number of high quality residential, commercial and mixed-use projects under development in cities across China and Southeast Asia. In Singapore, its subsidiary, MCL Land, is a well-established residential developer.
Just last year in August, Hong Kong Land entered into an agreement with Singapore-based DBS Bank, where it received its first sustainability-linked loan estimated at US$128 million.
The amount of money that this firm has put into sustainability efforts since November last year is at least HK$6.85 billion. This is inclusive of the two loan facilities- each lasting four years- that it has with DBS, which cost about US$193 million.
Additional credit facilities include:
Japanese-based MUFG bank at a cost of HKD$900 million (US$115 million)

HSBC, a British multinational bank, at a cost of HKD$1billion (US$128 million)

Hong Kong-based BOCHK bank at a cost of HKD$2.7 billion (US$347 million)

Singapore-based OCBC Bank at a cost of HKD$750 million(US$96 million)
In a sustainability-linked loan (SLL), the lender creates sustainability performance targets, and once they're achieved, the borrower is rewarded in the form of decreased interest rates on the loan.
To determine whether the set objectives have been met, the lender evaluates the borrower's performance using specific sustainability performance targets (SPTs).
Speaking in a press release, Robert Wong, the CEO of Hong Kong Land explained that such loans illustrate how the company continues to integrate sustainability into its operations.
Should Hong Kong Land manage to accomplish all the set ESG (Environmental, social and governance) goals by the financial institutions, it will earn the right to receive a tiered discount on its loans' interest rates.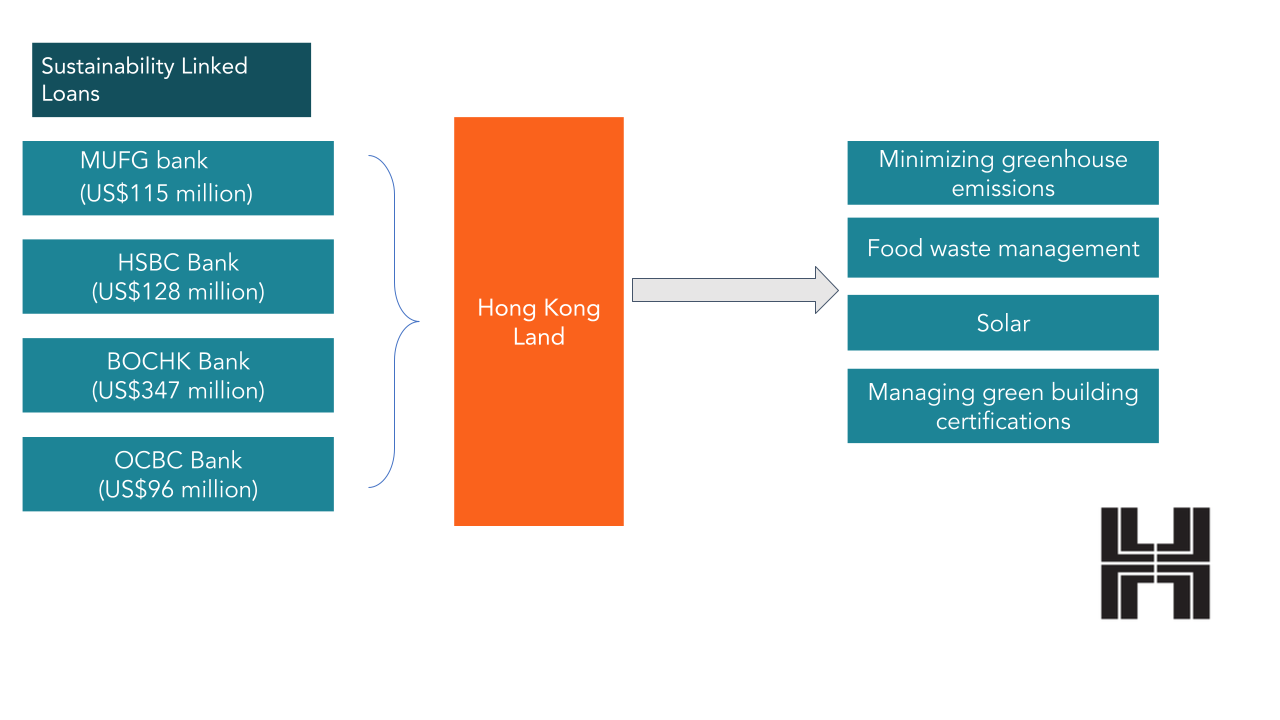 The objectives set by the banks include:
Food waste management

Solar energy

Minimizing greenhouse gas emissions

Managing the firm's green building certifications within Hong Kong's CBD
Wang Bing, who serves as the deputy CEO of BOCHK, stated that sustainability has always been one of the bank's primary targets.
"We encourage and support corporate customers to establish sustainable business models, by providing them with diversified sustainable financial services," he stated.
Benefits accruing from the loan are meant to be used as general working capital and to finance green building projects that are currently underway.
Hong Kong Land's interest in sustainability-linked loans is not much of a surprise. These types of loans have been garnering popularity in the past few years.
As revealed here by BloombergNEF, the disbursement of sustainability loans increased by 168% between 2019 and 2020, to reach $122 billion.