On July 6, 2020 Last Mile Holdings' (MILE.V) provided an update highlighting certain "key performance indicators" driving the growth in its now fully integrated operating subsidiary, Gotcha Mobility.
Just four months ago Last Mile announced the acquisition of Gotcha Mobility, focusing on university campuses and small to midsize municipalities in the U.S.
Gotcha has secured permits to deploy approximately 20,000 vehicles, 80% of which are exclusive.
With 80 combined locations, MILE is the third largest micro-mobility company by location in North America, after Lime and Bird.
"In the first five months of 2020 Gotcha has driven industry-leading and month-by-month improved single vehicle unit economics," states Last Mile.
With an average profit of $2.45 per trip, Gotcha's results year-to-date represent a nearly 93% premium when compared to the latest publicly available data for its peers.
Excluding depreciation, cash contribution per ride of $3.70 represents a 39% contribution margin.
On a total revenue per trip basis, Gotcha's $9.42 average represents a positive differential of 121% according to the same data source.
Under normal circumstances, investors expect brand new companies to expand territories improve margins.
What's remarkable here is the that Last Mile is fighting two major headwinds: 1. "historically slower winter months" and 2. Reduction of university student populations due to the pandemic.
Despite these headwinds, Gotcha has seen drastic increases in profitability across its various end markets, driven primarily by increases of 53% and 208% in riders per month and minutes ridden per month, respectively.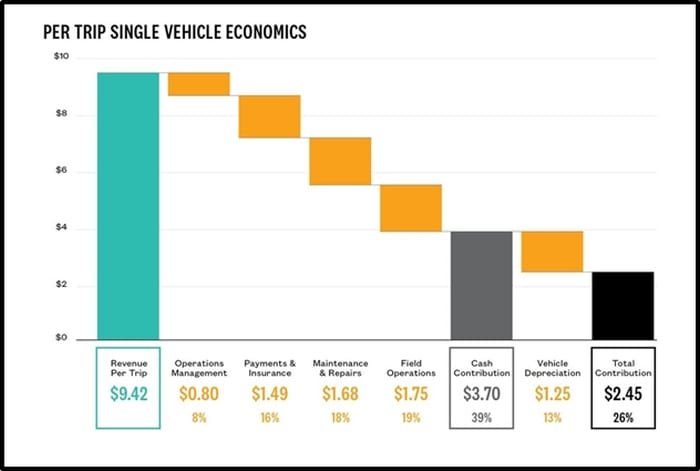 MILE's July 6, 2020 announcement is an update to a June 17, 2020 prior press release.
January-May 2020 Gotcha highlights:
43% increase in number of trips per month from 36,200 in January to 51,900 in May;
208% increase in minutes ridden per month from 416,600 in January to 1,281,500 in May;
53% increase in riders per month from 13,300 in January to 20,300 in May;
17% increase in vehicles deployed from 3,990 in January to 4,650 in May.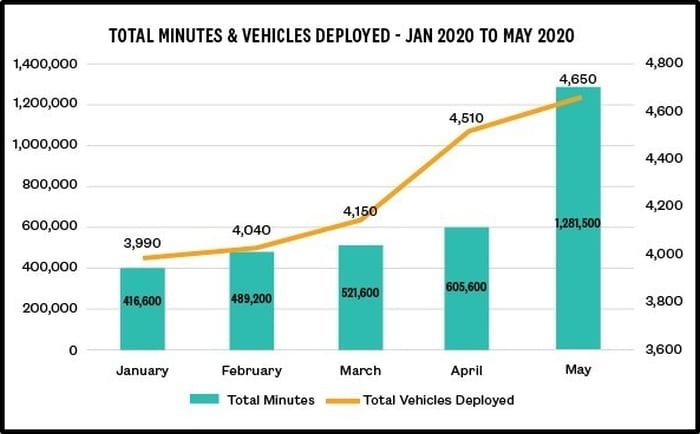 MILE's "strategy of negotiating exclusive contracts in key markets is responsible for both our resiliency in the face of current conditions and the record ridership we've recorded for nearly the first half of the year," stated MILE CEO Max Smith.
Smith notes the "superior unit economics" of Gotcha compared to the rest of the industry.
"Gotcha is a cost-efficient operator across our 32 active markets," continued Smith, "Moreover, we've been able to drive these results while accounting for additional costs associated with increased cleaning procedures."
Three months ago, Last Mile announced a new delivery service for restaurants, grocery stores, and other local businesses.
It's a smart adaptive mechanism to offer local business an alternative to being gouged by food delivery companies.
Gotcha's sit-down scooters and/or e-bikes will be available to these hard-hit vendors for $15 per day to deliver goods to customers – allowing local businesses to cut out 3rd-party delivery services, which typically charge 20 to 30 percent per order.
In this pt.1 Last Mile Podcast, Equity Guru's Guy Bennett talked to Last Mile CEO Max Smith about the importance of "exclusive contracts", the company's prestigious seed investors – and how innovative technologies create new revenue streams.
In this p.2 Last Mile Podcast, Mr. Bennett talks to Mr. Smith about insurance, app functionality, retail partnerships, manufacturing, expansion capital and 2020 milestones. "The Service today is to move people," explains Smith, "The service tomorrow is a lot more."
"While we are encouraged by our performance through May, we are even more motivated by our current revenue and contribution outlook," states Smith "which indicates that these metrics are continuing to trend upward from this five-month average…we expect to grow this leadership position".