It's often said: if bankers knew how to read drill logs – Royalty & Streaming companies wouldn't exist.
Lacking the geological expertise to accurately assess risk – big banks typically tremble at the knees when they get close to a proposed mine site.
"If we make a bad loan to a one mine company, we own the mine," stated one Canadian banker, "and we don't want to own mines."
Royalty companies give cash to miners in exchange for a share of the mine's future production.
It's like lending someone $10,000 to build a bakery – with the baker agreeing to give you 1% of sales. A "streaming company" is similar but they take 1% of the bread produced, instead of the cash.
Occasionally, bankers do get involved in the mining industry. The $3.5 billion African gold company Endeavour Mining (EDV.T) signed of a $500 million revolving line of credit with a bank syndicate that includes Barclays and HSBC.
On July 15, 2020 – a brand new metal company – Nomad Royalty (NSR.T) announced that it has entered into an agreement with three banks (Scotia, CIBC and RBC) for a USD $50 million revolving credit facility with the option to increase to USD $75 million.
Nomad owns a portfolio of 10 royalty, stream, and gold loan assets, of which 5 are on currently producing mines.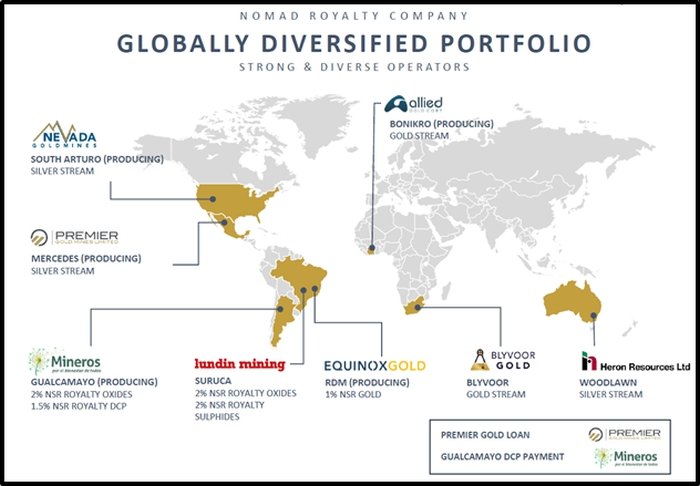 From the announced line of credit, we can make three assumptions: 1. The banks have confidence in the Nomad's business model, 2. The banks believe the price of precious metals is going higher 3. Nomad has more deals on the horizon.
Nomad shareholders get the rare benefit of owning shares in a metal company that has raised money without issuing new stock.
"We are excited to be able to count on Scotia, CIBC and RBC as strong financial partners to Nomad," stated Elif Lévesque, CFO of Nomad." The completion of the Facility will provide us with additional financial flexibility as we pursue the growth of our business. "
The credit facility will be secured by all of Nomad's assets and will have an 18-month term, extendable through mutual agreement between Nomad, Scotia, CIBC, and RBC.
To be clear, if Nomad can't repay the banks' money – the banks will own Nomad.
What's important here is that the banks do not want to own Nomad.
There are precisely zero number crunchers gliding around the 26th floor of the Scotia Bank headquarters who can assess the metallurgy, geology or political risk of a South African gold mine.
The banks are using Nomad's expertise as an insurance policy against their own lack of experience in this sector.
"This isn't a penny-ante, early-stage exploration royalty play," states Equity Guru's Greg Nolan in his July 2, 2020 analysis, "NOMAD boasts a highly diversified royalty and streaming portfolio with heaps of production in the mix"
"Of NOMAD's ten assets, five are currently cash flowing while two are in construction and ramp-up phase.
17,000 ounces of gold and 675,000 ounces of silver (25,000 AuEq ounces) are the estimated deliveries for 2021.
At a $1,500 gold price, 2021 operating cash margin will be in the C$40M range.
At current spot prices (~$1,700 gold), 2021 operating cash margin rises to roughly C$46M.
Shareholders seeking significant low-risk exposure to gold and silver can find it here". End of Nolan.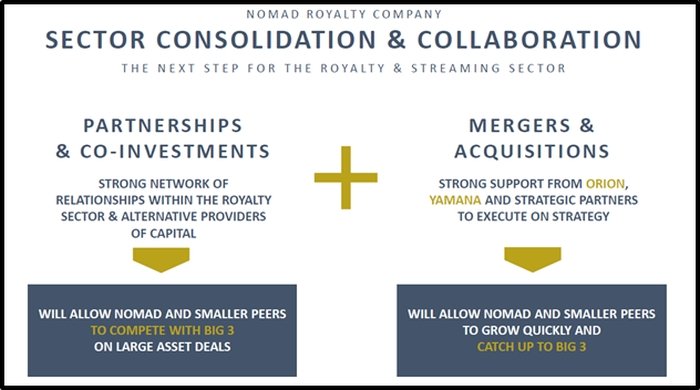 "The royalty space is a world Metcalfe, Plante, and Lévesque [Nomad management] know well," stated Nolan, "This team has vision. And they think like owners. They're committed to low G&A. Compensation will be linked to share price performance.
Management negotiated these royalty and streaming portfolio's in a low gold price environment ($1,475 Au).
Their timing couldn't have been better." – End of Nolan
Royalty and Streaming companies typically have very low burn rates as they incur none of the hard costs (machinery, labour) of the miners they invest in.
According to a July 6, 2020 report by the World Gold Council (WGC) gold-backed ETFs recorded their 7th consecutive month of positive flows, adding 104 tonnes in June, 2020.
Closing of the credit facility is expected in Q3, 2020.
According to the July 15, 2020 press release, "Nomad intends to use the Facility for future royalty and stream acquisitions".