Northstar Clean Technologies (TSXV:ROOF) (OTC:ROOOF) is a clean technology company focused on the recovery and repurposing of single-use asphalt shingles to produce liquid asphalt, fibre and sands while diverting shingle waste from landfills.
The company has a fully constructed pilot facility in Delta, BC that initiated steady-state production in February 2022.
On March 17, 2022 ROOF's Board of Directors approved Calgary as the planned location for Northstar's expanded-capacity asphalt shingle reprocessing scale up facility.
The engineer and design work anticipates a modular 150–200 tonnes/day facility.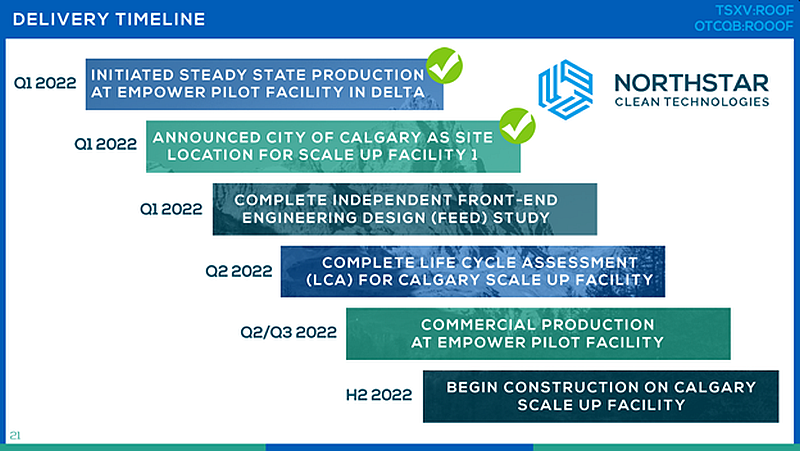 With corporate offices for Shell, Husky, Exxon and Imperial Oil, Calgary is not an obvious location for a recycling project, but newly elected Calgary Mayor Jyoti Gondek has pledged to make Calgary a greener city.
"Calgary City Council declared a Climate Emergency in November 2021," states the Calgary City Website, "directing the pace and scale of action to be accelerated".
"Calgary is the place to be for companies like Northstar that are driven to make an impact on the energy transition," states Brad Parry, President and CEO of Calgary Economic Development, "We are pleased Northstar has chosen Calgary to build its new planned facility that can help keep asphalt shingles out of landfills."
"Northstar's commitment to clean technology, community, and long-term solutions aligns with our economic strategy's focus on," added Parry.
Calgary Highlights:
At 150-200/tonnes per day, the Calgary Empower Facility will have an estimated capacity about 250% higher than the existing Delta facility.
"Calgary is home to Canada's 'energy transition' economy and we are excited to be a part of this movement," stated Northstar CEO Aidan Mills, who previously worked for British Petroleum.
"As I came out of the oil business, I along with other people believe that this industry needs to do things differently," Mills told GSN, "That's not to say that we need to switch off oil or stop driving conventional cars. It's an energy transition. We definitely need to stop putting hydrocarbons into landfills".
Mills recently spoke with GSN about ROOF's business objectives. The interview incorporates video footage shot at its Empower Pilot Facility in Delta.
GSN asked Mills how Calgary roofers will be incentivized to bring the discarded asphalt shingles to Northstar's processing facility.
"We have five elements to that strategy," explained Mills, "Number one, we will have facilities that are close to the dump, ideally within 5 kilometres. Secondly, we're going to discount the price that they pay. Thirdly, we will unload the shingles significantly faster than the municipal dump. Fourthly, we will have a food truck and give the drivers free coffee. Fifthly, if the roofers can hit sustainability targets, we will further discount their tipping fees."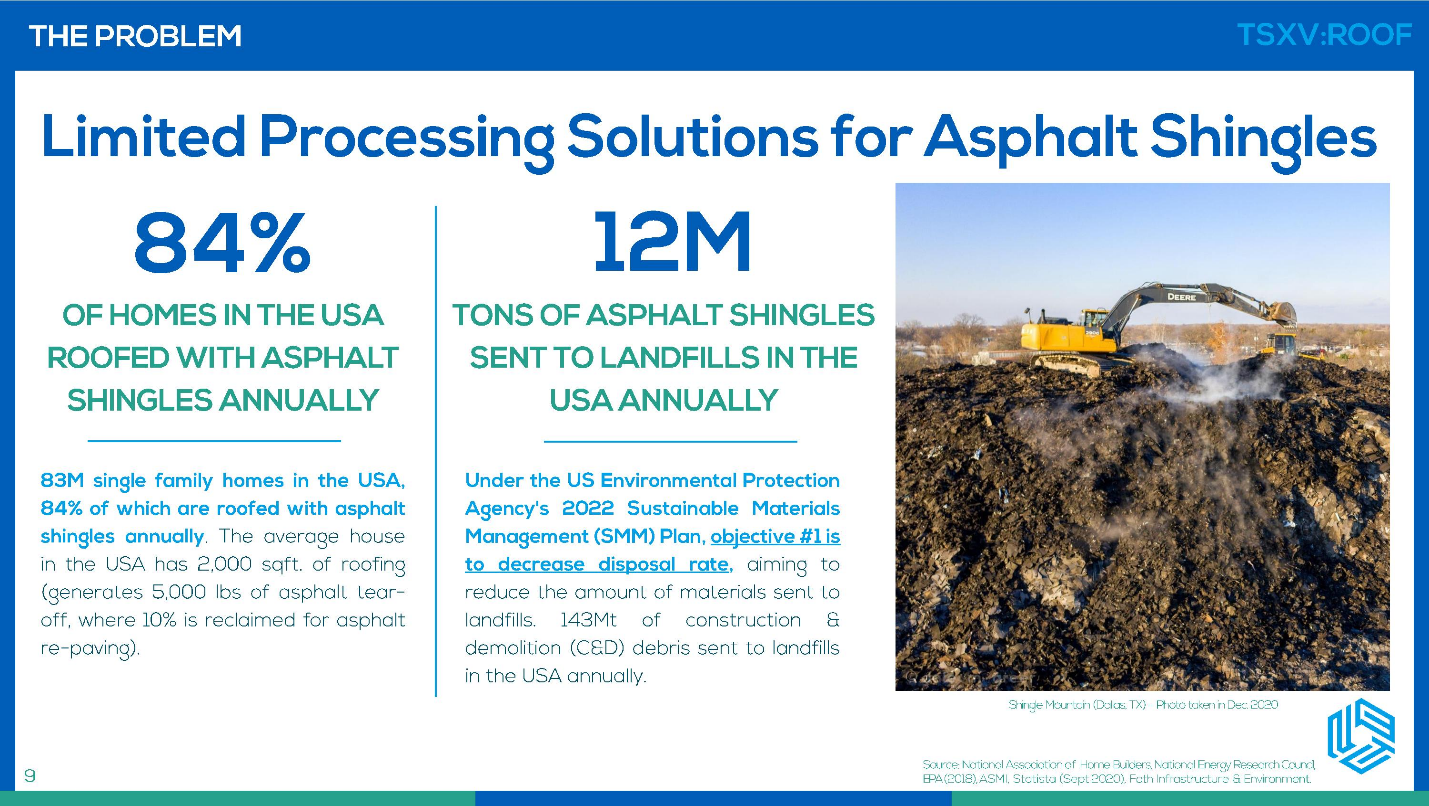 "Demand for asphalt binder in North America is currently highest for interstate highways and roofing," states a Liquid Asphalt Research Report prepared by Kin Communications, "Shingles made from asphalt serve one purpose which is to be used for the roofing of structures."
"Because these shingles are petroleum based, they are not eco-friendly and their production wastes energy in addition to exacerbating the emission of greenhouse gases," continues the research report.
ROOF's business model anticipates four revenue streams: 1. Tipping Fees (paid by waste haulers and roofing contractors), 2. Sale of Asphalt, 3. Sale of Fiber and 4. Sale of Aggregate. The sale of carbon credits would add a 5th revenue stream.
Before its IPO 9 months ago, ROOF raised $12.3 million. Since then the company began small batch production, engaged Wellington Dupont to liaise with governments, began modular design, proved carbon reduction, hired a Sustainability Officer and has initiated steady state production.
A green-light from the City of Calgary to build a 150–200 tonnes/day scale-up facility is another significant milestone.
Northstar is currently identifying a suitable leasing site in Calgary for its scale up facility. An independent Front-End Engineering Design (FEED) is expected to be completed by the end of Q1 2022.
Contact: guy.bennett@globalstocksnews.com