On November 17, 2020 public filings revealed that Warren Buffett's Berkshire Hathaway (BRK-B) dumped all its shares in Costco (COST.Q), while loading up on drug stocks.
"The Oracle of Omaha's Berkshire Hathaway exited its remaining stake in Costco — 4.3 million shares —in the third quarter, according to a new 13-F filing on Monday," reported Yahoo Finance, "Berkshire began building its stake in Costco back in 2000".
According to a 13-F regulatory filing, Berkshire purchased 3.7 million shares of Pfizer (PFE.NYSE) shares during the quarter.
Pfizer is one of the major companies pioneering a COVID-19 vaccine.
Switching out a food and goods retailer for a drug company took many financial pundits by surprise, but it selling into investor enthusiasm, while buying a company that has only generated a 17% gain over the last 20 years.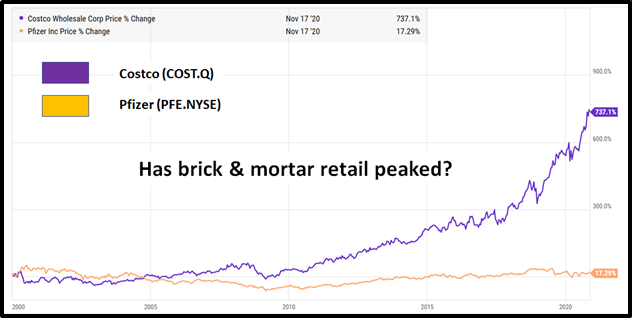 "Buffett's move is surprising on multiple fronts," continued Yahoo Finance, "First, Costco is a business that is right in Buffett's wheelhouse — an easy to understand retailer with a wide moat around its business. And two, Buffett's righthand man Charlie Munger continues to sit on Costco's board (since 1997).
Whether the exiting of the position in Costco signals Munger's impending departure from Costco's board (Munger is 96 years ago, after all) or Buffett's belief Amazon (AMZN) is really the one to beat in retail's future (he owns 533,000 shares in Amazon per the new filing) is unclear.
But here are several other reasons that Buffett's sale of his Costco stake likely has caught a few folks on the Street off guard — and may be ill-timed."
Costco has a $12 billion war chest. The retailer is about to pay a $10 a share special dividend. The payment will cost Costco $4.4 billion. Buffet will miss out on that.
"Costco's business of selling bulk merchandise to loyal members has boomed during the pandemic. Costco Members stocked up on food and cleaning products early on in the pandemic, and appear to be doing so again with infections back on the rise.
The company's October same-store sales surged 14.4%. With many customers avoiding crowds, E-commerce sales rose 91%.
Costco's overall same-store sales have gained by mid to high double-digit percentages in the past five months, beating growth trends at Target and Walmart.
"We continue to believe Costco is a core long-term holding and that it has so often showed that it can be a winner in different environments," wrote JPMorgan retail in a recent note to clients. "The company has been a consistent share gainer."
For the first 9 months of 2020, Costco's "international division saw same-store sales increase 19%. By comparison, U.S. same-store sales rose 13.6%.
Costco has 39 stores in Mexico, 29 in the UK, 27 in Japan, 16 in Korea, 13 in Taiwan, 12 in Australia, three in Spain and one each in Iceland, France and China. COST operates 800 stores worldwide.
"The strong foothold in overseas markets puts Costco in the catbird seat to widen its competitive moat versus others in retail over time," stated Yahoo, "For Costco, that means more recurring revenue from global memberships to build more e-commerce capabilities and warehouses. It's the ultimate shareholder value creating flywheel".
Vaccine or no vaccine, shoppers around the world are now acclimatized to making purchases through websites.
The best performer in the Canadian on-line Market is Amazon (AMZN.Q). The store had a revenue of USD $6.2 billion in 2019. It is followed by WalMart (WMT.NYSE) with USD $1.3 billion revenue and Costco with USD $1.2 billion revenue.
Altogether, the top three stores account for an astonishing 35% of online revenue in in Canada.
Meanwhile, On November 9, 2020 the $217 billion drug maker Pfizer announced that its Covid-19 vaccine candidate was 90% effective in a trial of about 43,000 people.
Bouncing off this good news – the Dow Jones Industrial Average (DJIA) surged 834.57 points (2.95%) to 29,157 and the S&P 500 rose 41.06 points (1.17%) to 3,550.5.
That day, New York-traded gold for December delivery plummeted $97 (5%) to $1,854. Spot gold, which reflects real-time bullion trades, was down $85.40 (4.4%), to $1,865.81.
Investors should remember that Pfizer is not the only competitor in the vaccine race.
Moderna, Sanofi, Johnson & Johnson and AstraZeneca PL are all in the race and present different technologies, transportation logistics and pricing.
Pfizer's announcement was significant because of the high the efficacy.
There is no reason to believe Pfizer's vaccine will have dominant market share.
After all, it has to be stored at -70 degrees Celsius.