In a press release dated November 9, 2023, West Red Lake Gold Mines (TSXV:WRLG) (OTC:WRLGF) reported additional drill results from its 100% owned Rowan Property located in the prolific Red Lake Gold District of Northwestern Ontario, Canada.
The company's flagship asset – The Madsen Gold Mine – is debt free, fully permitted, with a brand-new 800+ tonne per day mill, a tailings and water treatment facility. [1.]
Their 100% wholly owned Rowan Gold Project is the company's other asset, located approximately 15 kilometers as the crow flies from the Madsen mill. WRLG believes there are synergies between the high-grade resources at Rowan and the Madsen mill.
Holes RLG-23-171 and RLG-23-172 represent the deepest intercepts drilled to date on Vein 101 within the high-grade East Zone.
This high-grade ore chute has a strike length of approximately 250 meters and has now been drilled down to a vertical depth of 490 meters from surface.
HIGHLIGHTS:
Hole RLG-23-171 Intersected 2.4m @ 10.92 g/t Au, from 562.35m to 564.75m, Including 0.5m @ 48.30 g/t Au, from 564.25m to 564.75m; and 0.8m @ 19.82 g/t Au, from 147.2m to 148m.
Hole RLG-23-172 Intersected 2.15m @ 11.07 g/t Au, from 443.60m to 445.75m, Including 0.5m @ 45.90 g/t Au, from 444.70m to 445.20m.
Hole RLG-23-168 Intersected 0.5m @ 38.15 g/t Au, from 229.75m to 230.25m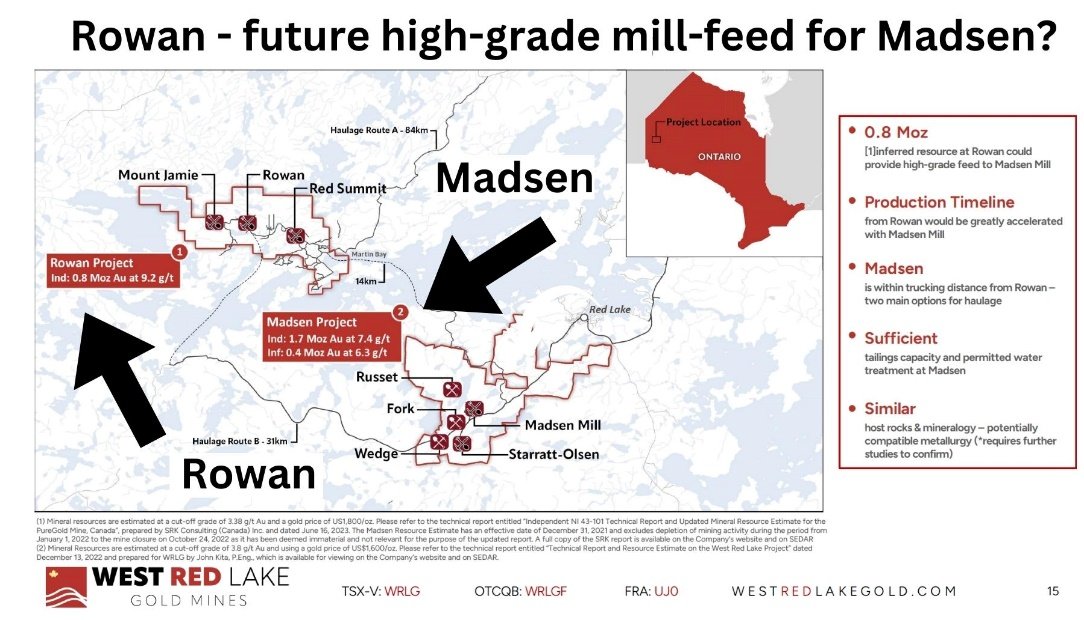 "We have now successfully extended mineralization in the high-grade East Zone down to a vertical depth of 490 meters," confirmed Shane Williams, President & CEO of WRLG.
The potential vertical depth of the Rowan deposit is a talking point among WRLG investors. In 2003 Gold Corp hit intersections of 57 grams/tonne gold at its Red Lake Mine 2,146 meters below surface. Gold mineralisation has been discovered even deeper within this Ontario gold trend.
"If the Red Lake District has taught us anything, it's that these zones can continue to depths exceeding 4 kilometers when the structural and geologic conditions are right," stated Williams.
"The Rowan Mine target has consistently demonstrated it has what it takes to produce high-grade gold intercepts over significant widths." added Williams. "We look forward to continuing to drill and grow this exceptional resource along strike and at depth."
A total of 52 diamond drill holes for 18,990 meters have been completed so far in 2023 at the Rowan Mine target. Fire and metallic screen assays have been returned for 45 out of 52 holes completed, with 1 hole having partial assay results and 6 holes pending assays and QAQC.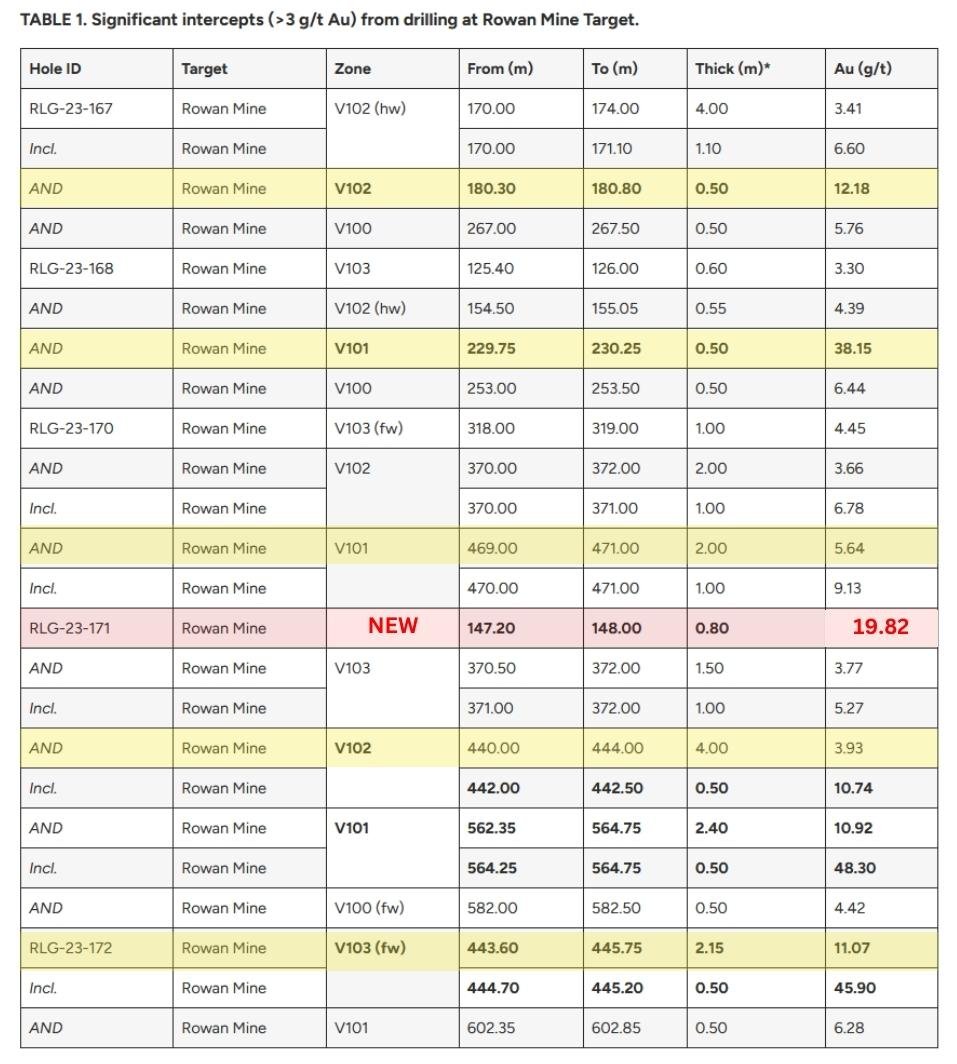 Note: The "From-To" intervals in Table 1 denote overall downhole length of the intercept. True thickness has not been calculated for these intercepts.
GSN spoke to WRLG VP of Exploration, Will Robinson, who served as Exploration Manager of Coeur Mining for 10 years. Throughout his 19-year career Robinson has done the hard yards, from remote grassroots field programs, to advanced exploration, to mine development.
"When I met with Frank Giustra in the West Red Lake Gold offices, he told me his vision is to build another Gold Corp," Robinson told Guy Bennett, the CEO of Global Stocks News (GSN). "That definitely piqued my interest. I jumped aboard. It's been non-stop aggressive exploration since then."
"The November 9, 2023 drill results confirm that we've established depth extent at Rowan down to half a kilometer," Robinson told GSN. "There's no indication it stops at that depth. There's potential to extend that zone."
"What we're seeing, as we move the drills to the west, is more veining coming into the system," continued Robinson. "Higher vein densities. The West Zone at Rowan is close to the historic shaft. We have a comprehensive distribution of drilling across the entire resource area, filling in gaps along the way. We are encouraged by what we are finding."
"We're doing "top-to- bottom" assays," explained Robinson. "When a company has a very tight budget, they will only sample portions of the drill hole. We're sampling continuously from the collar down to the bottom. That generates a lot of useful data."
"Assay results received from the 2023 drilling program continue to confirm our thesis that quartz veining and gold mineralization continue at depth and along strike, with grades consistent with, or higher than those outlined in the current Inferred Mineral Resource," states WRLG.
"For example, the 100 Vein Zone – which is the furthest north vein currently modeled within the overall Rowan vein corridor – was previously interpreted to be a lower grade portion of the block model. Recent drilling has confirmed that higher grades are present within the 100 Vein Zone below 150m elevation, suggesting that gold grades are increasing at depth within this zone which is a trend that has been observed elsewhere in the Red Lake district."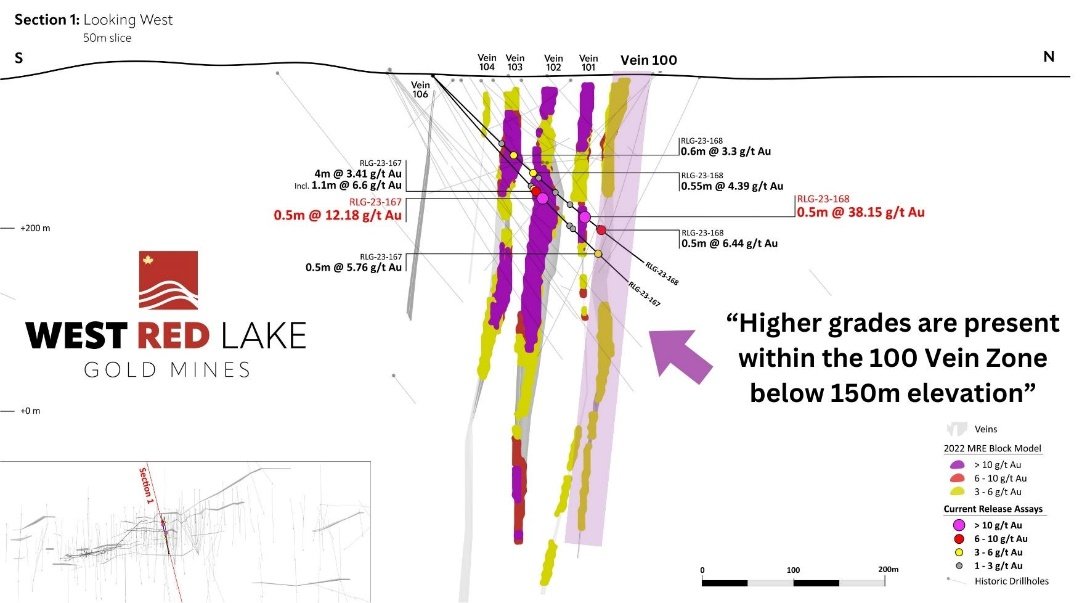 On November 7, 2023 West Red Lake Gold announced an upsize of marketed private placement of units to CND $13 million at .52 per unit.
WRLG CEO Shane Williams has designed, built and operated mines (open pit and underground) for Eldorado Gold and Rio Tinto.  He has a stellar track record of moving mineral assets into production.
Drilling at the Rowan Mine Target area will continue with an emphasis on infill and expansion of the existing high-grade mineral resource.
References:
1. SRK Consulting. (2021). Independent NI 43-101 Technical Report and Updated Mineral Resource Estimate for the PureGold Mine, Canada (West Red Lake Gold Mines, Ed.) [Review of Independent NI 43-101 Technical Report and Updated Mineral Resource Estimate for the PureGold Mine, Canada. https://www.globenewswire.com/en/news-release/2022/08/10/2495601/0/en/PureGold-Announces-Updated-Mineral-Resource-Estimate-for-PureGold-Mine.html
guy.bennett@globalstocksnews.com