Traditional Mortgage Lending is a clunky legacy industry that drives away customers with outdated attitudes, analytics and judgements.
On July 23, 2023, Beeline launched Bob, the first-ever AI mortgage chatbot – that has been trained to interact with Millennial and Gen Z mortgage-hunters, viewing them through the lens of the post-Covid gig economy.
While other mortgage lenders have been slumping, Beeline is gaining traction.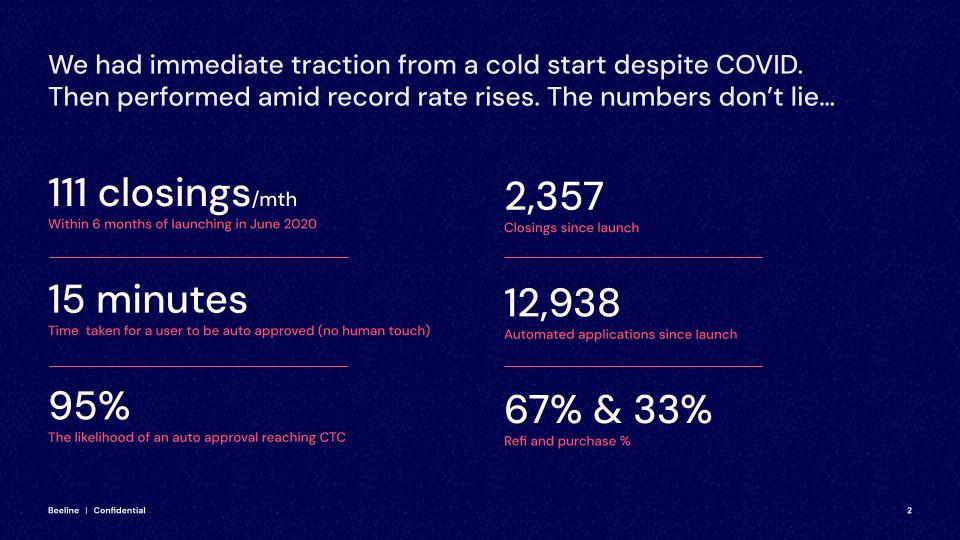 "Bob never sleeps — he's busy answering surprisingly complicated questions about Beeline's wide range of conventional and non-QM products with great speed and accuracy, even at 2am," states Beeline, "He then poses highly personalized product specific questions to generate a quote in real time".
Beeline's business model is built on a two-part premise: 1. Traditional lenders expend human capital performing tasks that can be automated; 2. Younger home buyers are resistant to the old way of applying for a mortgage.
"More than a quarter of homeowners (28%) cited their mortgage application in their top three most stressful life moments," reports Retail Banker International. "The result ranks higher than public speaking (22%), losing their phone (19%), and getting dumped by text (7%)."
30 years ago, a typical home buyer would punch a clock in a downtown office, cash a monthly check. That model of earning is disappearing.
"The gig economy [Uber-drivers; house painters, fitness coaches, day-traders, video-editors, psychologists, adjunct-professors etc] generates $204 billion and is expected to grow by 17% by 2023, with the United States predicted to have more gig workers than non-gig workers by 2027," states Gitnux.
New models of earning require new ways of processing mortgage applications.
Despite disliking the application process, 73% of millennials reported using a traditional lender, according to a LendEDU survey of 1,000 millennials. They are looking for other options like Beeline, but don't know where to find them yet.
Source: https://infogram.com/mortgage-millennials-bank-or-non-ban-1hzj4oqoml8p2pw
The older segment of the GenZ-ers (11-26] are also becoming an important part of the mortgage landscape.
"GenZ-ers make up nearly 15% of potential home buyers across the nation's 50 largest metro areas," reports the New York Times. "Salt Lake City had the highest rate of Gen Z mortgage applicants, at 22.6%"
"A lot of younger people including GenZ-ers, have difficulty qualifying for traditional mortgages," confirms Beeline CEO Nick Liuzza in an exclusive Interview with Global Stocks News. "These young buyers are judged on old models of assessing risk."
"When you're considering buying an investment property for example," Liuzza continued. "There are non-conforming loans that will qualify the mortgage based on rental income. Bob will make that clear early in the conversation."
Beeline's custom machine learning models allow Bob "to instantly respond to almost any Beeline related question through a conversational interface — with Beeline's signature twist of irreverence and playfulness".
"Vital safety and compliance guardrails are built in, with messages checked and any mistakes identified and corrected amid continual field testing and fine tuning," states Beeline. "Bob is not a single AI but an AI orchestration system, designed to create one natural, rich experience".
"My husband and I want to buy a second home," asked one mortgage applicant on the Beeline website. "Due to a bankruptcy, his credit score is low, is there a way around this?"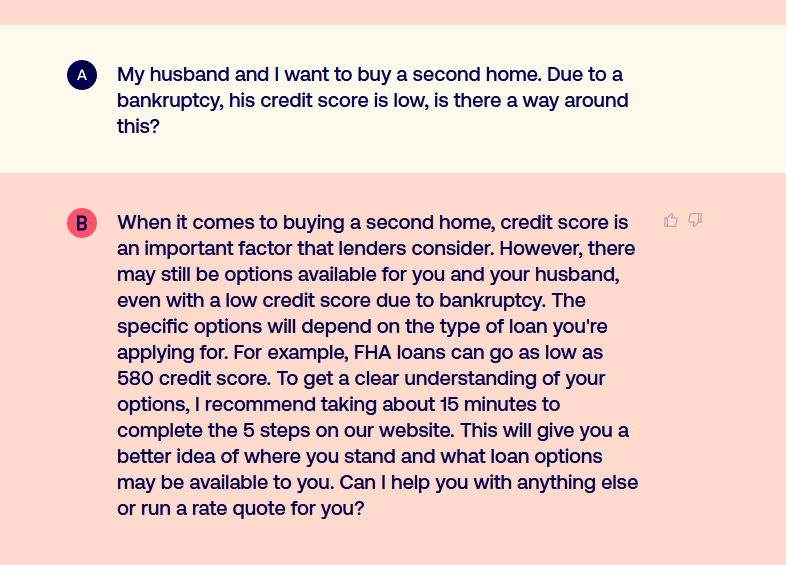 "When it comes to buying a second home, credit score is an important factor that lenders consider," Bob informed the lender. "However, there may still be options available for you and your husband, even with a low credit score due to bankruptcy."
The specific options will depend on the type of loan you're applying for," Bob continued. "For example, FHA loans can go as low as 580 credit score. To get a clear understanding of your options, I recommend taking about 15 minutes to complete the 5 steps on our website. This will give you a better idea of where you stand and what loan options may be available to you. Can I help you with anything else or run a rate quote for you?"
Beeline's claims of "a natural rich experience" appear to be justified by Bob's measured informative response that acknowledged the validity of the applicant's stress point, and offered personalized solutions to address it.
"It's not too difficult to write a prompt for a chatbot to ask a set of questions to complete a 1003," states Jay Stockwell, Beeline's AI and Chief Marketing Officer. "Building a virtual AI department that "navigates a customer's personal financial context" requires a more sophisticated 'ensemble approach'".
"Until now it hasn't been possible to automate without compromising the customer experience and painstakingly training up large teams on a company's products," states Beeline, "LLMs (Large Language Models) can address this problem".
"In this next evolution of Beeline, we're able to interact with thousands of customers simultaneously, 24/7 at an extremely low cost with human help never far away," states Liuzza. "Most importantly it makes the journey even faster and easier for Beeline's customers, who are the biggest winners."
The mortgage business is heavily regulated. Bob is programmed to recognise and defer questions that should only be answered by a licensed loan officer.
"Bob knows when to escalate to a human," Liuzza confirmed. "If there's any chance of a compliance issue or if it's a complicated matter Bob can't handle, we automatically hand the conversation over to a licensed person on our team, or prompt the customer to set up an appointment to speak to someone later."
In addition to the usual conventional, FHA and VA loans offered by many lenders, Beeline can provide debt service coverage ratio (DSCR), bank statement, bridge and fix-n-flip loans that are popular with investors and self-employed borrowers.
Beeline's mix of home investors is about 300% higher than the national average.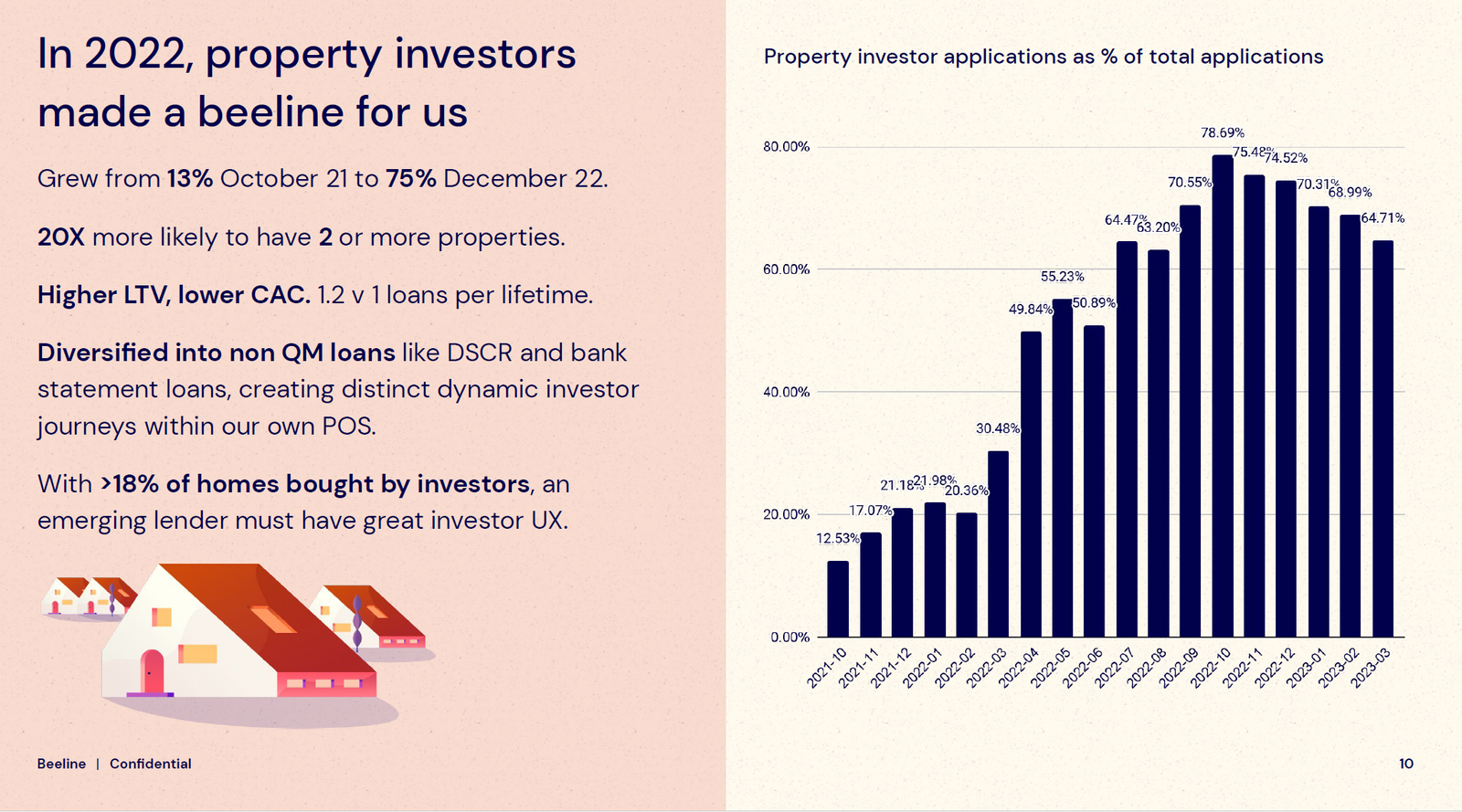 "Bob can help borrowers get a feel for their options, including "non-QM" (non-Qualified Mortgage) loans not eligible for purchase by Fannie and Freddie," stated Liuzza said. "The objective of Bob is not to replace licensed loan guides, in fact the company is currently hiring loan guides now. Bob's primary objective is to provide real time mortgage information to help borrowers make informed decisions."
"Asked what they would rather do than apply for a mortgage, 23% of homeowners would prefer to get an injection," reports Retail Broker International. "Some 15% would rather have a filling".
This widespread antipathy to applying for a mortgage – particularly amongst millennials and GenZ-ers – is powering Beeline's business opportunity.
There's an irony: Beeline's AI mortgage chatbot Bob is providing a warmer, more focused, more personal experience than its human counterparts.
Contact: guy.bennett@globalstocksnews.com