In a press release dated October 3, 2023, West Red Lake Gold Mines (TSXV:WRLG) (OTC:WRLGF) stated its "near-to-medium" term objectives for the Madsen Mine and Rowan Mine projects located in the prolific Red Lake Gold District of Northwestern, Ontario, Canada.
The company's flagship asset – The Madsen Gold Mine – is debt free, fully permitted, with a brand-new 800+ tonne per day mill, a tailings and water treatment facility1.
Their 100% wholly owned Rowan Gold Project is the company's other asset, located approximately 15 kilometers as the crow flies from the Madsen mill. WRLG believes there are synergies between the high-grade resources at Rowan and the Madsen mill.
The PR recaps 2023 milestones already hit including acquisition of the Madsen and Rowan Gold Projects, recruitment of the new CEO, Shane Williams, raising CND $32 million, drill bit success, underground mine development and the initiation of a Preliminary Economic Assessment (PEA).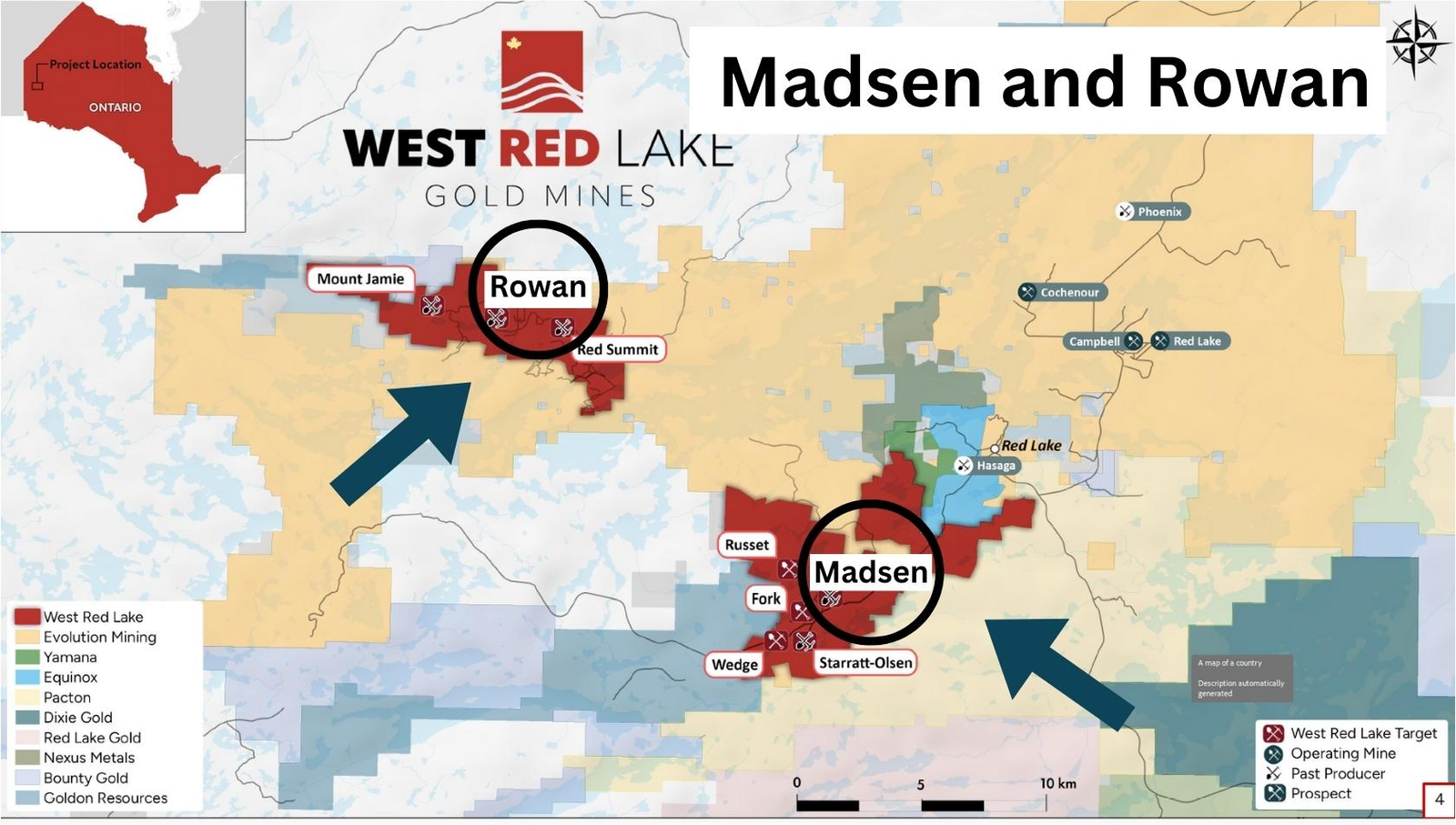 The plans going forward are even more ambitious. Here are three important take aways from the WRLG October 3, 2023 PR:
1. Drills will turn
Early 2024 35,000-meter drill program planned for Rowan Property; a second drill will conduct in-fill drilling and expansion drilling of high-grade zones; testing of high priority drill targets at Mt. Jamie, Red Summit and the NT Zone; complete 3,000-meter drill program at Wedge; complete 38,000-meter underground drill program at Madsen Mine by Q4 2024.
2. Confidence in existing gold resources will go up
There will be a complete initial Preliminary Economic Assessment (PEA) on entire portfolio of Properties by Q2 2024 (based on drilling cutoff date of Oct 1, 2023). Complete updated Mineral Resource Estimate (MRE) at Rowan by Q4 2024 (to include all anticipated drilling up to Q3 2024).
3. Mine development is focused on re-start date
Mining engineers have designed 3,200 meters of underground development at Madsen to be completed by Q4 2024 for "access and required infrastructure" to support underground drilling; an additional connecting ramp between the East and West declines at Madsen will be developed to increase and optimize material hauling capacity from the between ramps which previously crossed two public roads. These initiatives should further reduce operating costs and increase productivity. WRLG states that it is focused on "putting the Madsen Mine back into production in 2025".
This WRLG September 13, 2023 video: "A New Vision for the Madsen Mine in Red Lake" – gives an overview from the mine site.
"I've never seen an acquisition this attractive," stated mining financier Frank Giustra. "The quality of the infrastructure here is first class. You couldn't create this today with less than $700 million, and it would take you years, probably a decade to build".
"It has that new car smell," added Giustra. "It's all about execution in this business. We know what we're doing, we've done it before. This gives us a much better platform than I've ever had before to create a major gold mining company".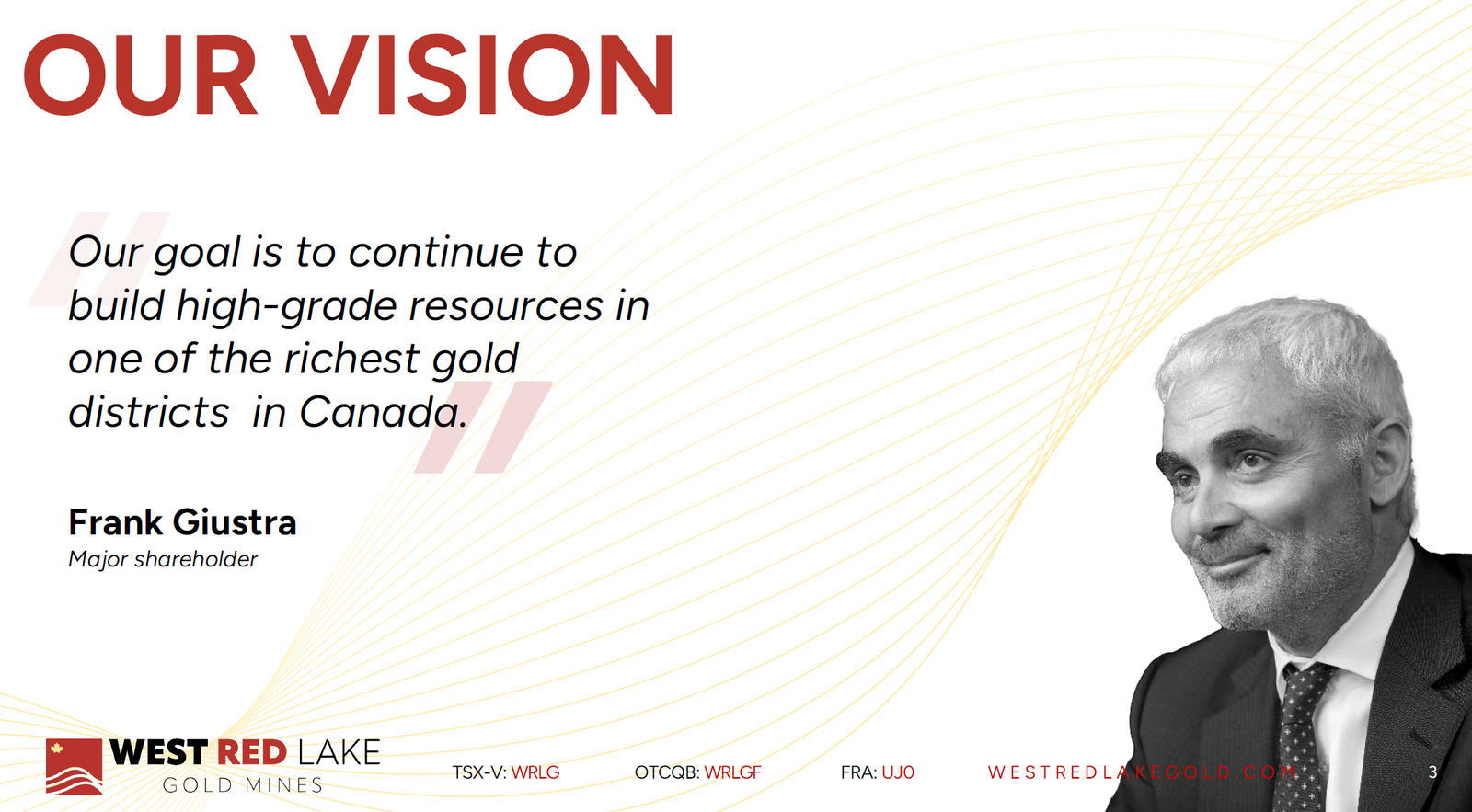 "The PEA will look to unlock and deliver robust economics by incorporating the company's entire portfolio of Red Lake assets which is made up of our Rowan Project and Madsen Mine with its accompanying satellite deposits," stated WRLG.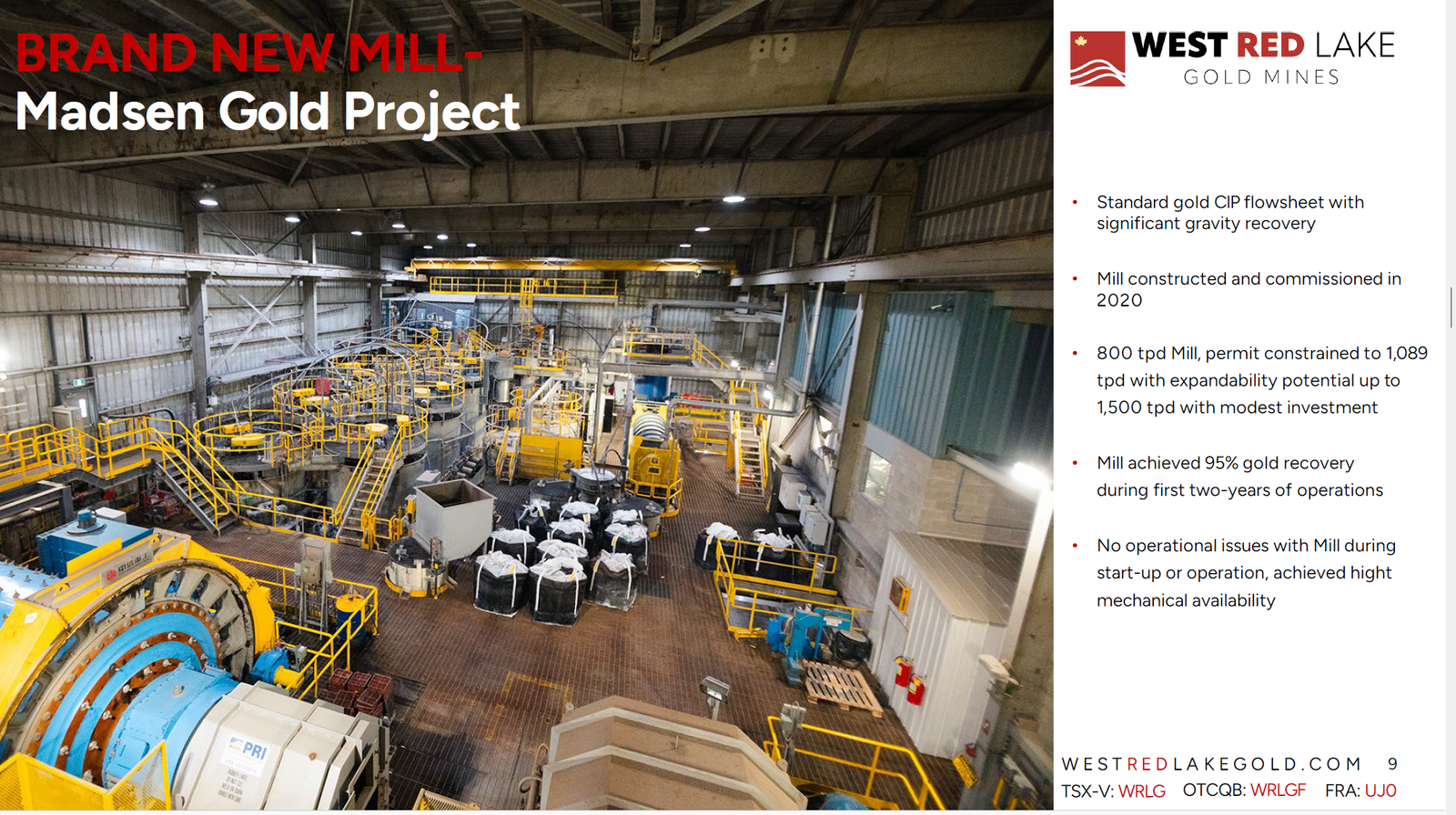 There is a cynical stock promoter's aphorism: "Don't ruin a good story with a drill bit." It's worth noting the WRLG drills will be turning in metallic zones that have already returned high gold values.
For instance, at Rowan, Hole RLG-23-163B Intersected 8.3 m @ 70.80 grams per tonne gold from 387 meters to 395.3 meters2.
At Wedge, Hole PG17-486 Intersected 10.33 meters @ 24.94 g/t gold, from 16.6 meters to 27 meters3.
WRLG CEO Shane Williams has designed, built and operated mines (open pit and underground) in Greece, Turkey and Canada – for Skeena Resources, Eldorado Gold and Rio Tinto.
"After many months of due diligence, we discovered that the problems with the mine were caused by a compounding series of financial and operational decisions, not the mineral asset itself," Williams told GSN's CEO Guy Bennett. "We are taking a new approach. Our entire team is focused on the re-opening of the Madsen Gold Mine."
References:
SRK Consulting. (2021). Independent NI 43-101 Technical Report and Updated Mineral Resource Estimate for the PureGold Mine, Canada (West Red Lake Gold Mines, Ed.) [Review of Independent NI 43-101 Technical Report and Updated Mineral Resource Estimate for the PureGold Mine, Canada.
2 https://westredlakegold.com/west-red-lake-gold-drills-70-80-g-t-au-over-8-3-m-including-1120-19-g-t-au-over-0-5-mat-rowan-property/
3 https://westredlakegold.com/west-red-lake-gold-commences-surface-drilling-at-wedge-target-2-km-southwest-of-madsen-mine/
guy.bennett@globalstocksnews.com