On March 23, 2021, Hall of Fame Resort & Entertainment (HOFV.Q) signed a partnership with Dolphin Entertainment (DLPN.Q).
HOFV shares rose 95% while and Dolphin's stock shot up 85%, after rocketing 236.3% on Tuesday following an announcement that it had formed a new NFT division.
What is an "NFT"?
HOFV leverages the power and popularity of professional football and its legendary players in partnership with the Pro Football Hall of Fame.
Headquartered in Canton, Ohio, this firm owns the Hall of Fame Village powered by Johnson Controls. The latter is a multi-use sports, entertainment and media destination centered around the Pro Football Hall of Fame's campus.
In this video, Michael Crawford, the President and CEO of HOFV explains more about what the company does.
Dolphin Entertainment is a leading independent entertainment marketing and premium content development firm.
It offers non-fungible tokens ("NFTs") that allow fans of professional football and sports entertainment to buy and sell exclusive content developed by HOFV and its partners.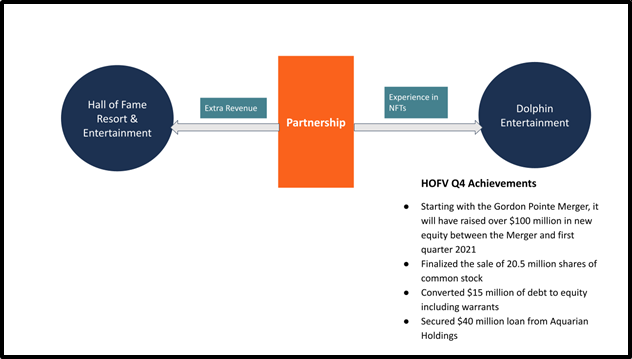 The new partnership will provide HOFV with an opportunity to generate extra revenue from its burgeoning media division.
"We are thrilled to be partnering with Dolphin, an emerging thought leader in the NFT market, to accelerate our entry into the space" said Crawford.
"The significant progress we have made on our strategic initiatives since going public in July 2020 has allowed us to be in a position where we can offer individuals the opportunity to own NFTs associated with original content centered on professional football," added Crawford.
"This partnership will provide us with another opportunity to unlock additional value from the one-of-a-kind media projects we have in development," he concluded.
This company expects that its first NFT offering will be connected to its Heisman 2 Hall ("H2H") platform, created in partnership with Elite Team Holdings, LLC.
Elite Team Holdings is the organization representing the exclusive group of only 10 athletes that have won a Heisman Trophy and been inducted into the Pro Football Hall of Fame.
HOFV's entry into the NFT space couldn't have come at a better time given how lucrative the sector has become. Consider these latest stats:
In 2020, the trade volume of NFTs hit the $250 million mark (a 300% increase, year-on-year)

A twitter post by billionaire Mark Cuban sold for $952
Crawford stated, "focusing on this space at a time when NFTs are surging in popularity demonstrates our company's ability to leverage direct access to exclusive content and to a robust pipeline of brand and intellectual partnerships."
Bill O'Dowd, CEO of Dolphin, remarked, "HOFV is a leader at the crossroads of professional football and entertainment, which makes them a perfect first partner for Dolphin's new NFT division."
Dolphin Entertainment just recently created this NFT department, which is tasked with:
Designing

Producing

Releasing

And promoting NFTs
O'Dowd hopes that HOFV's prowess in this sector will offer significant value to the partnership. "We are thrilled to collaborate with HOFV and their partners on creating and marketing sought-after digital collectible NFTs for the vast sports fan base," O'Dowd concluded.
Corporate Highlights
Apart from the company's expertise in the NFT space, another thing working in favor of this partnership is the fact that HOFV is well-grounded, financially.
Some of its achievements from its latest Q4 report include:
Starting with the Gordon Pointe Merger, it will have raised over $100 million in new equity between the Merger and first quarter 2021
Finalizing the sale of 20.5 million shares of common stock
Managing to convert $15 million of debt to equity including warrants
Securing $40 million loan from Aquarian Holdings
By the time the year comes to a close, HOFV aims to have signed other partnership agreements, other than that of Dolphin Entertainment.
For instance, it plans to sign up for a multi-year partnership with Women's Football Alliance so that it can host its four division championships at the Tom Benson Hall of Fame Stadium.
Dolphin's stock has run up 430% year to date while HOFV shares have climbed 220%.