Kimco Realty (KIM.NYSE), and Weingarten Realty Investors (WRI.NYSE), have entered into a definitive merger agreement.
The deal will see Weingarten merge with Kimco, with Kimco continuing as the surviving public company.
Kimco Realty is a real estate investment trust (REIT) headquartered in Jericho, N.Y. that is one of North America's largest publicly traded owners and operators of open-air, grocery-anchored shopping centers and mixed-use assets.
The company's portfolio is primarily concentrated in the first-ring suburbs of the top major metropolitan markets.
This includes those in high barrier-to-entry coastal markets and rapidly expanding Sun Belt cities, with a tenant mix focused on essential, necessity-based goods and services that drive multiple shopping trips per week.
Weingarten Realty Investors is a shopping center owner, manager and developer.
At December 31, 2020, the Company owned or operated under long-term leases, either directly or through its interest in real estate joint ventures or partnerships, a total of 159 properties.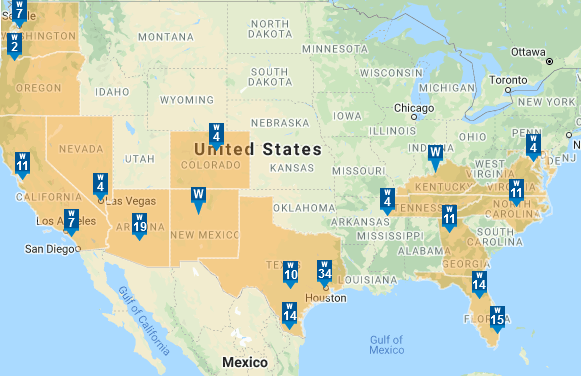 Weingarten Real Estate Portfolio
All properties are located in 15 states spanning the country from coast to coast. They represent approximately 30.2 million square feet of which interests in these properties aggregated approximately 20.7 million square feet of leasable area.
The transaction brings together two industry-leading retail real estate platforms with highly complementary portfolios.
Thus, this will result in preeminent open-air shopping centers and mixed-use real estate owners in the country.
The increased scale in targeted growth markets, coupled with a broader pipeline of redevelopment opportunities, positions the company to create significant value for its shareholders.
The combined company is expected to have a pro forma equity market capitalization of approximately $12.0 billion and a pro forma total enterprise value of approximately $20.5 billion.
Under the terms of the merger agreement, each Weingarten common share will be converted into 1.408 newly issued shares of Kimco common stock plus $2.89 in cash.
Based on the closing stock price for Kimco on April 14, 2021, this represents a total consideration of approximately $30.32 per Weingarten share.
On a pro forma basis, following the closing of the transaction, Kimco shareholders are expected to own approximately 71% of the combined company's equity, and Weingarten shareholders are expected to own approximately 29%.
The merger will create a national operating portfolio of 559 open-air grocery-anchored shopping centers and mixed-use assets comprising approximately 100 million square feet of gross leasable area.
These properties are primarily concentrated in the top major metropolitan markets in the United States.
The combined company is expected to benefit from:
Increased scale and density in key Sun Belt markets

Enhanced asset quality

Tenant diversity

A larger redevelopment pipeline

A deleveraged balance sheet
As a result, the combined company should be uniquely positioned to drive further sustained growth in net operating income (NOI) and asset value creation through continued strategic leasing and asset management.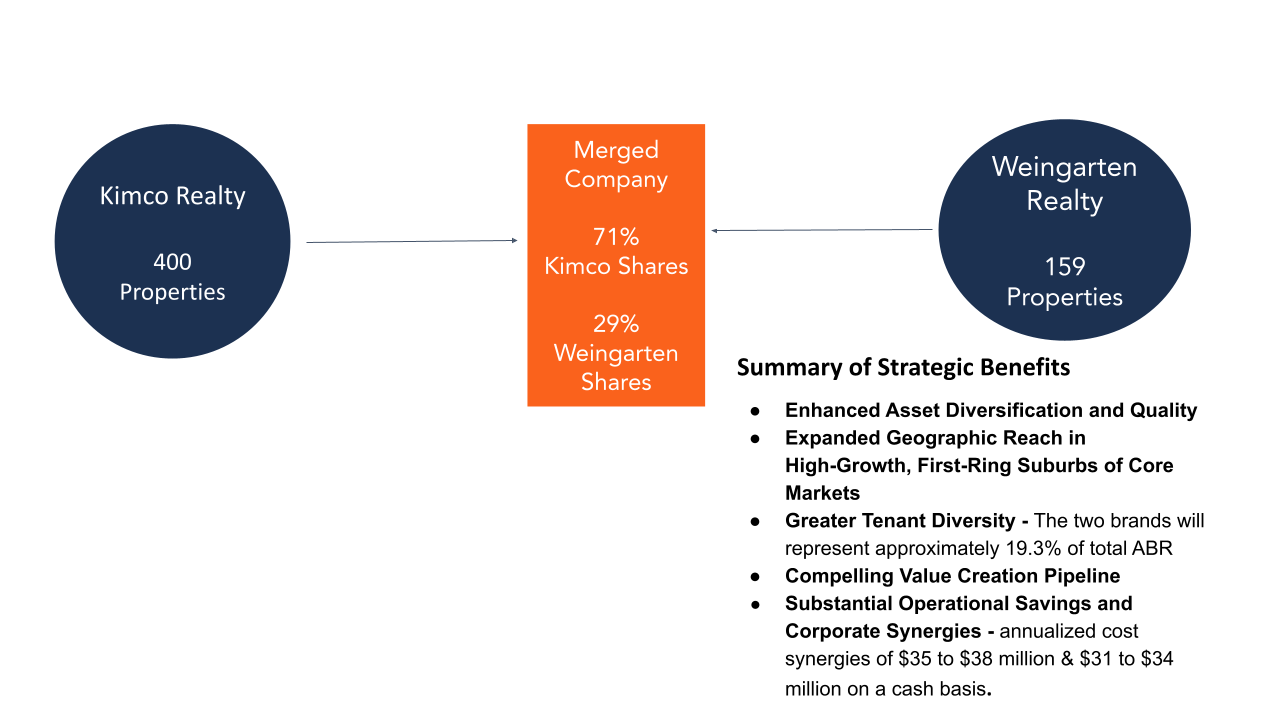 One thing that works so well for this merger is the potential surge in demand for spaces as business owners continue making efforts to recover from the pandemic-driven losses.
Speaking in an interview with CNBC, Kimco's Chief Executive Officer, Conor Flynn, stated, "It's really impressive to see that retailers are out there today looking for new space to take advantage of the pent-up demand that they see coming."
"Really, I think there's going to be a lot of revenge spending going on. And they want to be, you know, in a position to take market share when the reopening occurs," he concluded.
When making the announcement about the merger, Weingarten's Chief Executive Officer,  Andrew M. Alexander, noted that the deal benefited both companies in equal measure.
"Combining these highly complementary platforms is a win-win for shareholders of both companies," he said.
The merger is expected to be finalized during the second half of 2021. It is subject to customary closing conditions, including the approval of both Kimco and Weingarten shareholders.
This strategic transaction was unanimously approved by the Board of Directors of Kimco and the Board of Trust Managers of Weingarten.