On March 17, 2021 Organic Garage (OG.V) announced the expansion of its Hand-Picked Partner program.
Following the success of the Handpicked Partner Program at the Liberty Village store, the expansion will initially consist of the placement of the Cali-Rolls sustainable sushi brand at the Organic Garage Junction location and the roll-out of the Tori's Bakeshop program across all four Company stores.
Founded in 2005 by a fourth-generation grocer, Organic Garage has an expanding footprint in the Greater Toronto Area.
The 4-outlet chain did $24 million in sales last year. The total organic retail market in Ontario is valued at $1 billion.
The 4-outlet chain is about to become a 5-outlet chain.
On November 28, 2019, OG announced that it had begun construction the Leaside location – which follows a formula of expanding its store footprint into high population density locations in both established and growing markets within the Greater Toronto Area.
Leaside is located northeast of Toronto's downtown core and consists of over 229,000 households with an average household income of over $139,000 per year within a 5km radius.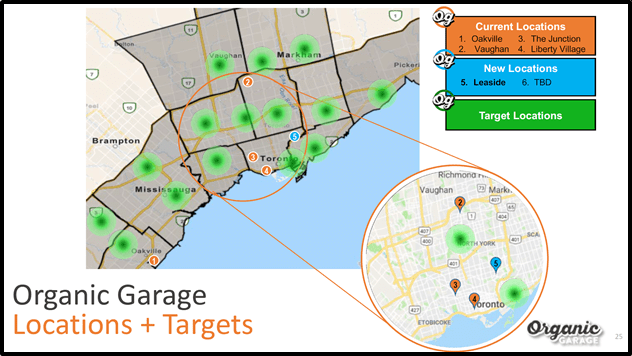 Demand drivers for organic food have psychological underpinnings.
Specifically, a generalised anxiety about the fate of the planet (global warming, Covid-19, corporatism, military conflicts, strong-man politics etc.) is driving people to eat healthier.
Why?
Because – unlike the corporate tax rate or the chemistry of the ozone layer – your grocery shopping list is something you can control. Putting healthy food in your body is a small symbolic protest against the unhealthiness of the planet.
Consideration of Future Consequences (CFC) is a measure of the extent to which people consider the potential future consequences of their current behavior," states Medical News Bulletin (MNB), "Higher CFC participants are more likely to exhibit diets with a higher proportion of organic food."
Tori's Bakeshop is the latest partner in a curated food concept that allows select vendors to sell unique, ready-made and specialized foods to Organic Garage customers through small-footprint, on site kiosks.
The plant-based, organic baked goods maker saw overwhelming customer demand during its weekend-only trial run and their fresh vegan products will be available in all Organic Garage locations now three days per week (Friday – Sunday).
"Tori's Bakeshop is grateful to be neighbourhood partners with Organic Garage, whose healthy conscience, best practices and community engagement are values we wholeheartedly champion," stated Tori's Bakeshop founder, Tori Vaccher. "Their enthusiastic support offers increased access to our organic products in the Greater Toronto Area and beyond."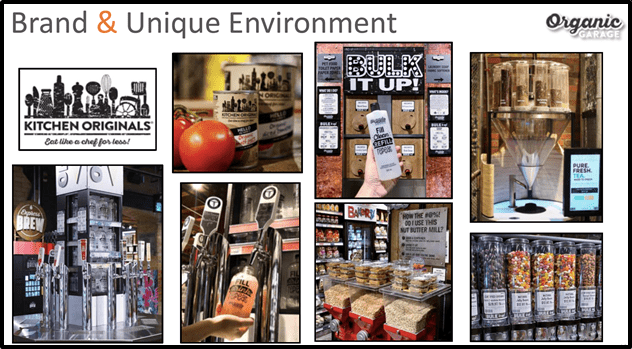 Due to the encroachment of suburbs, arable land is being lost at the rate of over 38,000 square miles per year, while land devoted to organic farming is increasing.
"The North American organic sector posted a banner year in 2019, with organic sales in the food and non-food markets totaling a record $55.1 billion, up a solid 5% from the previous year".
OG will continue to explore opportunities with recognized vendors to further expand the Hand-Picked Partner program and enhance the instore shopping experience for its customers.
Categories with which the Company will look to supplement its current "A to Z" organic and natural products selection are: Specialty Meats, Specialty Cheeses, Specialty Breads, Prepared Foods and Plants & Flowers.
On March 17, 2021 OG announced that its recently acquired plant-based food company, Future of Cheese has completed recipes and formulations for the initial line of products, and is proceeding to enter commercial production.
The Future of Cheese – now an OG subsidiary – is a Canadian plant-based cheese innovator and manufacturer led by hot shot cheese makers and Chefs.
The company plans to "disrupt the rapidly growing plant-based dairy alternatives market".
According to Manufacturing.Net, "96% percent of North Americans love cheese" to the point that 39% would give up coffee for a year to avoid quitting cheese.
The first OG Future of Cheese products will be launched this spring with domestic retail and food service partners.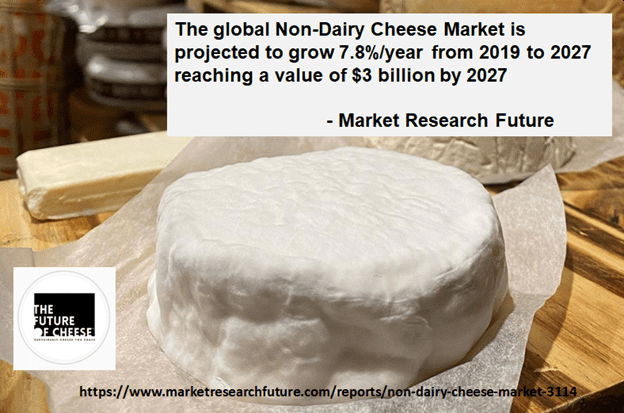 "Organic Garage has largely de-risked their deal," wrote Equity Guru's Chris Parry on February 13, 2021, "Two stores doesn't bring you many favours from suppliers, but five turns the screw on those vendors somewhat harder."
"Six weeks after the company began to get noticed by investors, OG announced its first real baller move," added Parry, "to acquire an actual plant-based product line, thereby allowing them to make money from their competitors' brick and mortar stores, as well as their own".
In this February 16, 2021 video, Equity Guru's Jody Vance talks to Organic Garage (OG.V) President & CEO Matt Lurie about the company's origins and current business objectives.
"In Ontario alone, there could be 25 or 30, Organic Garages," Lurie told Vance, "If we look at BC, for example – an epicenter of the organic movement – there is a huge opportunity there."
"So there's lots of runway for us to continue to add stores on the Organic Garage side, not to mention the other exciting stuff we're doing on the plant-base side."
"I am pleased to continue the expansion of our successful Hand-Picked Partner Program through the addition of Tori's Bakeshop," stated Lurie in the April 6, 2021 press release.
"I look forward to growing the Partner Program with other specialized local vendors that we are currently in discussions with," added Lurie, "and I can't wait to share their products with our Organic Garage customers."