[Video Enhanced] Beeline Offers Mortgage Lifeline to Gig Economy Workers
October 24 – The News Wire – Global Stocks News – The gig economy – defined loosely as the "labor market involving short-term contracts or freelance work" – is the biggest workplace disruption since the industrial revolution (1760 to 1840).
73.3 million U.S. workers currently participate in the gig economy.
Traditional mortgage lenders have failed to adapt to this seismic shift, creating an opportunity for the innovative, nimble, AI-driven mortgage company Beeline.
Here's Kalli – a freelance music therapist, teacher and singer describing how she completed a Beeline application online in a single evening – and was then offered a competitive mortgage rate, using a "bank statement loan."
"My income can really change a lot," explained Kalli. "A lot can come in one month, and then nothing in the next month. I knew that I wanted a home and roots for my son while still being able to live my dream of being a music therapist."
Kalli described applying for a mortgage through a traditional lender, being forced to submit "tedious documents" – and then being rejected.
"I found Beeline online," Kalli recalls, "And I just went ahead. The process was really easy. I was able to do it in one night. They acted quickly. And got me a lower rate. Based on bank statements more than tax returns."
Without regular pay-stubs and long-term employment contracts, established, financially secure gig workers often find it difficult to qualify for a traditional mortgage.
The Bank of America (BOA) measures "gig-type income" through direct and debit card deposits. Freelancers like Kalli are often paid in cash, by cheque or e-transfer. "Is the peak of the gig economy now behind us?" asks The Bank of America (BOA) on April 25, 2023.
In fact, the number of US gig workers is projected to rise 4% to 76.4 million by 2024. So, no BOA, the trend has not peaked. Like other big banks, you are missing the opportunity, because you are not assessing it correctly.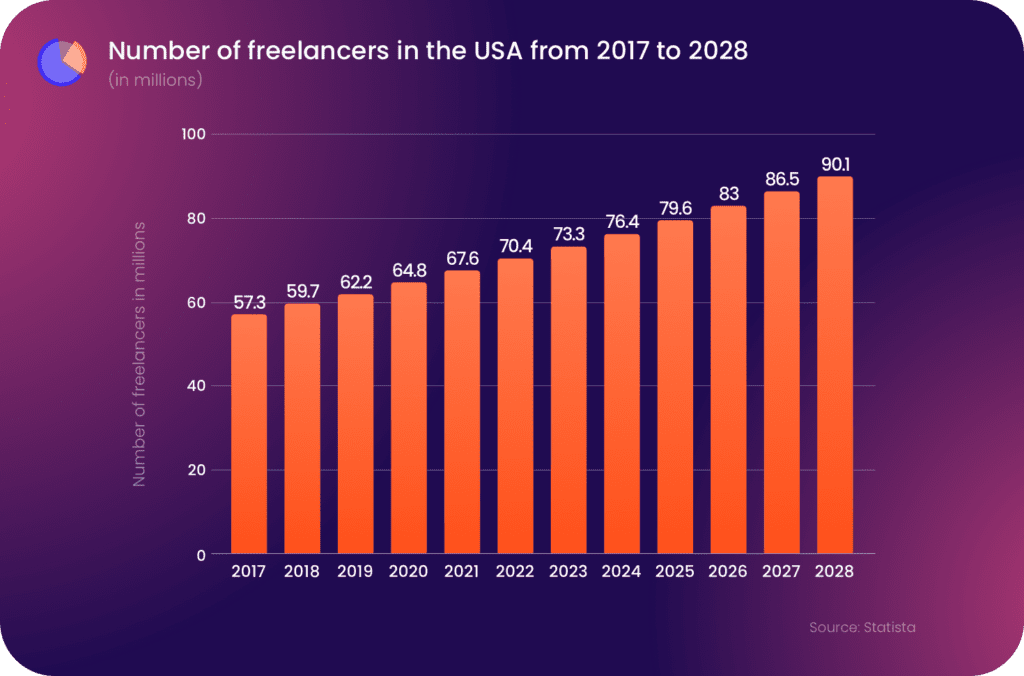 Source: https://www.symmetrical.ai/blog/gig-economy-statistics
"A lot of gig workers have difficulty qualifying for traditional mortgages," confirms Beeline CEO Nick Liuzza in an exclusive interview with Guy Bennett, the CEO of Global Stocks News. "These young entrepreneurs are judged on old models of assessing risk. There are a lot of bankable Gig employees who are being shut out of home ownership. Beeline offers a wider spectrum of products than most lenders allowing our borrowers a higher probability of success in landing a mortgage."
In addition to the usual conventional, FHA and VA loans offered by many lenders, Beeline can provide debt service coverage ratio (DSCR), bank statement, bridge and fix-n-flip loans that are popular with investors and self-employed borrowers.
Beeline's mix of home investors is about 300% higher than the national average.
The custom machine learning models at Beeline allow its AI GPT-powered mortgage chatbot (named Bob) "to instantly respond to almost any Beeline related question through a conversational interface — with Beeline's signature twist of irreverence and playfulness".
"Vital safety and compliance guardrails are built in, with messages checked and any mistakes identified and corrected amid continual field testing and fine tuning," states Beeline. "Bob is not a single AI but an AI orchestration system, designed to create one natural, rich experience".
60% of Beeline's leads are outside of business hours. Bob does not get tired, does not condescend to applicants with irregular income. He works 24/7, requires no medical coverage, office space or overtime. Beeline has human loan experts on standby, but the AI mortgage chatbot radically reduces the employee headcount.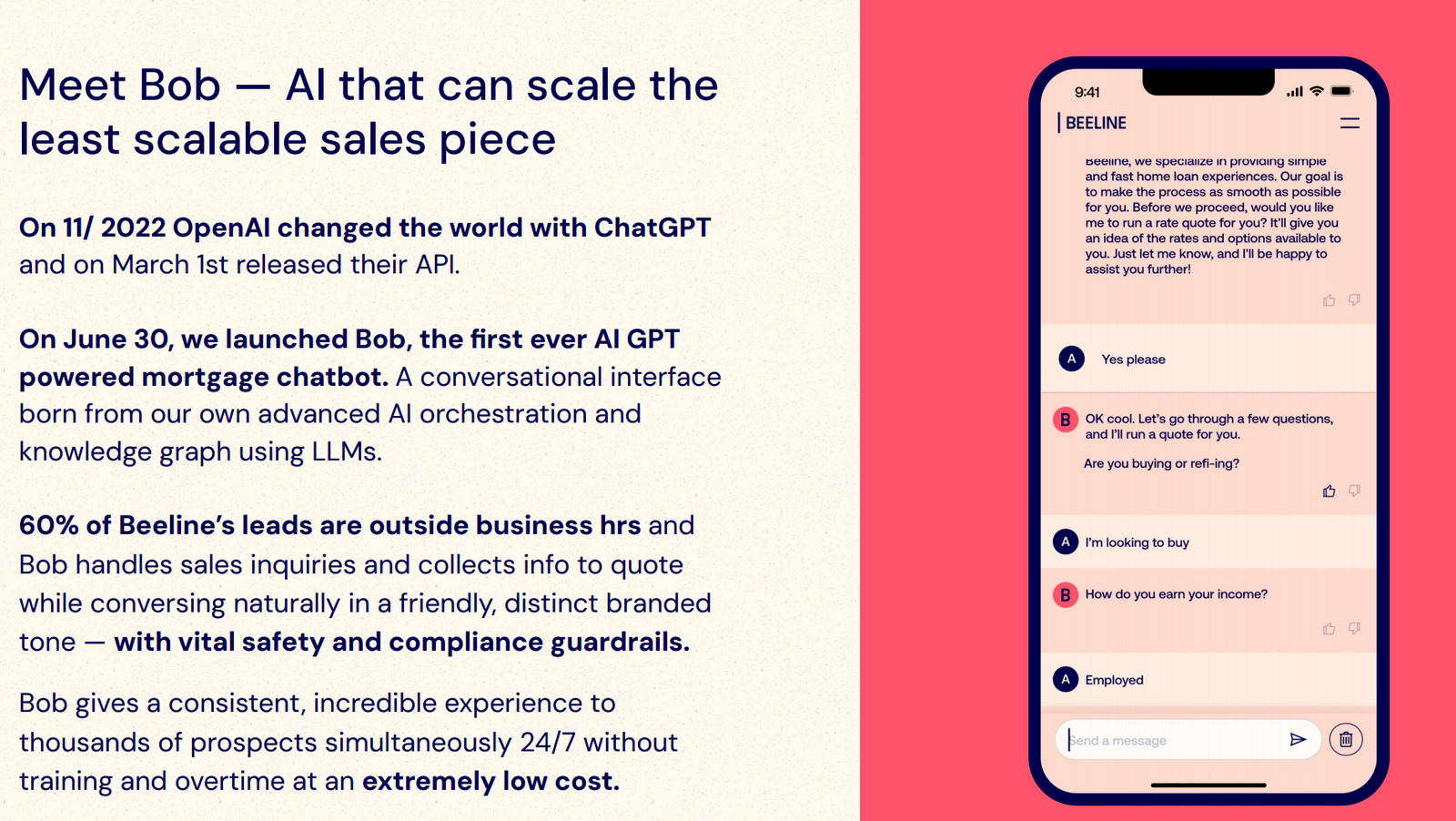 Gig workers have been waiting for a lender to cater to their expectations of doing business online. It is a mobile workforce, conditioned to use mobile applications.
With Beeline, a gig worker can apply, upload, sign documents and get approved at 1 a.m. from a booth in Rib Daddy's BBQ in Jackson, Mississippi. The system offers end-to-end online service.
"It's not difficult to write a prompt for a chatbot to ask a set of questions to complete a 1003," states Jay Stockwell, Beeline's AI and Chief Marketing Officer. "Building a virtual AI department that "navigates a gig worker's personal financial context" requires a more sophisticated 'ensemble approach'".
"Until now it hasn't been possible to automate without compromising the customer experience and painstakingly training up large teams on a company's products," states Beeline, "LLMs (Large Language Models) can address this problem".
"I'm an uber driver and I also sell camera equipment online," one gig worker recently told Beeline's AI chatbot Bob. "My credit rating is okay. I have no debt. But my reported income is quite low. I pay almost no tax. I want to buy a small apartment. Am I eligible for a mortgage?"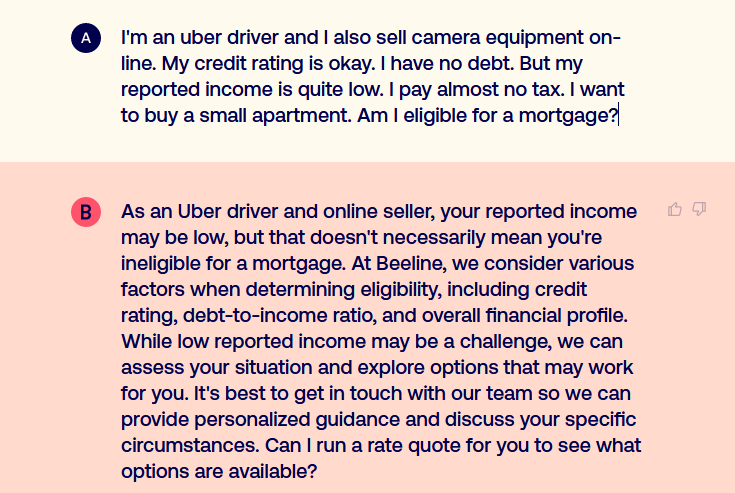 "As an Uber driver and online seller, your reported income may be low, but that doesn't necessarily mean you're ineligible for a mortgage," Bob informed the gig worker. "At Beeline, we consider various factors when determining eligibility, including credit rating, debt-to-income ratio, and overall financial profile. While low reported income may be a challenge, we can assess your situation and explore options that may work for you."
This calm, flexible, let's-work-together approach has been successful. Despite the headwinds of high interest rates, Beeline is gathering momentum. Revenues were up 48% from Q1 to Q2, 2023. They stayed flat in Q3, as interest rates skyrocketed, and stressed-out home buyers stayed on the sidelines.
"We're able to interact with thousands of customers simultaneously, 24/7 at an extremely low cost with human help never far away," confirms Liuzza. "We are launching digital protocols into the production piece of our platform, which means Beeline will have a truly end to end digital mortgage platform.
In Q1, 2024 Beeline will launch 'task based (or parallel) processing'. Files will automatically be broken up into predetermined micro tasks, triggered and completed automatically in real time.
This process focuses on distributing these micro tasks between processors and code to analyse different components of the data. This will be further accelerated in Q2, 2024 by using AI vision technology to read and process documents. This innovation will allow Beeline to process documents faster, with far fewer humans involved.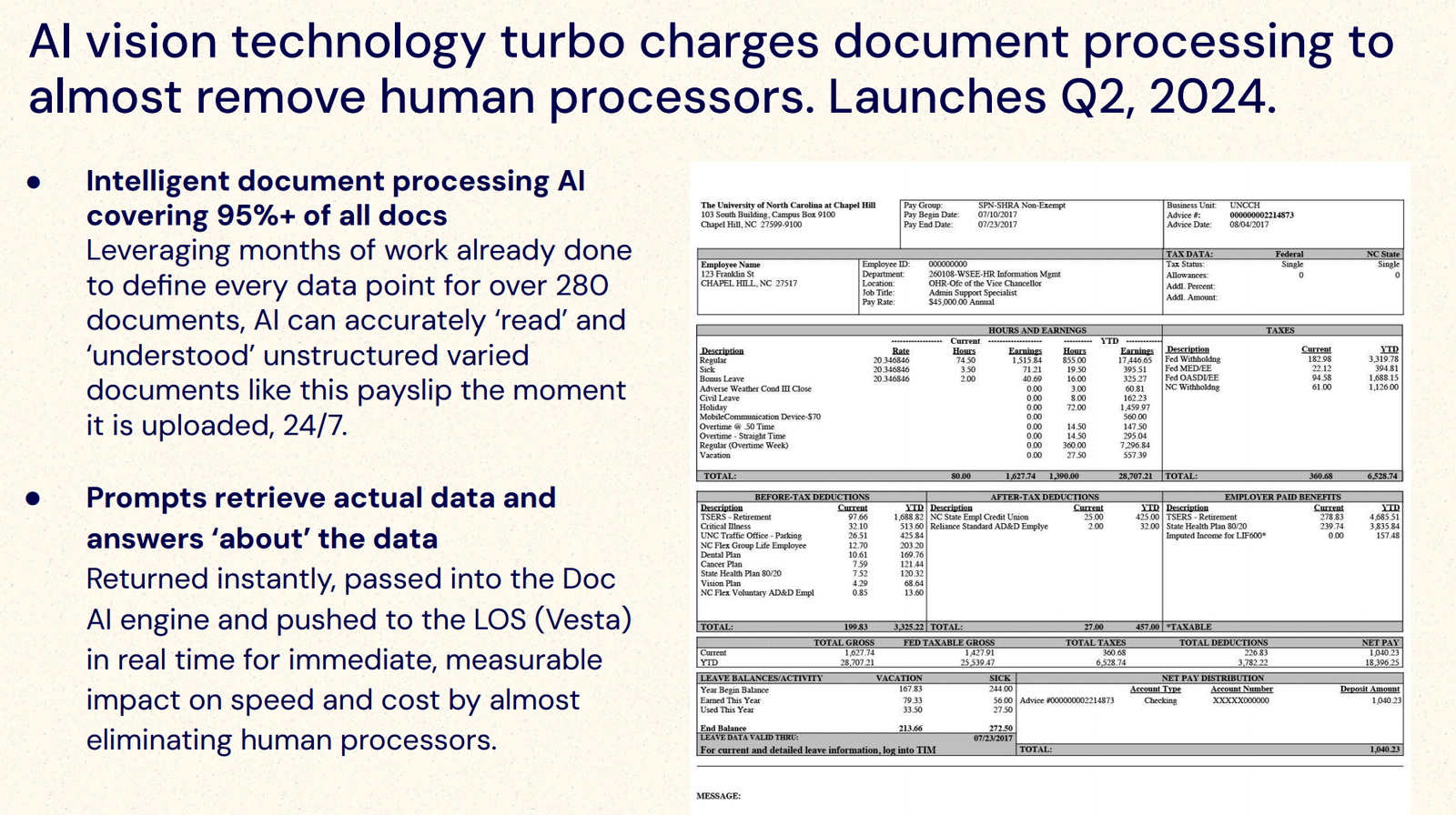 "The traditional 9-to-5 grind is being incrementally replaced by a model more reflective of today's fluid, digital world: gig work," states TechTarget.
Beeline's mortgage business is catering to this new world order.
Contact: guy.bennett@globalstocksnews.com