On March 2, 2021  Zacatecas Silver (ZAC.V) began trading on the TSX Venture Exchange.
The Zacatecas Silver property is located in Zacatecas State, Mexico, within the highly prospective Fresnillo Silver Belt, which has produced over 6.2 billion ounces of silver.
The company holds 7,826 ha (19,338 acres) of ground that is highly prospective for low and intermediate sulphidation silver-base metal mineralization and potentially low sulphidation gold-dominant mineralization.
The property is 25 km south-east of MAG Silver Corp's (MAG.T) Juanicipio Mine and Fresnillo PLC's Fresnillo Mine.
The property shares common boundaries with Pan American Silver (PAAS.NASDAQ) claims and El Orito which is owned by Endeavour Silver (EDR.T).
There are four main target areas within the Zacatecas concessions:
The Panuco deposit – located in the north of the concessions, and is the most advanced prospect.
It has an historic inferred mineral resource of 19,472,901 ounces Ag Eq. (cut-off 100 g/t Ag Eq.) from 3,954,729 tonnes at 153.2 g/t Ag Eq (136 g/t Ag, 0.14 g/t Au, 0.012% Pb, 0.11% Zn).
Mineralization at the Panuco remains open along strike and down dip.
Muleros – is characterized by three sub-parallel, silver-gold-base metal mineralized veins which can be traced over a strike length of at least 3 km.
El Cristo – represents the NW strike extension of the Veta Grande vein system which is reported to have produced over 200 Moz Ag.
El Cristo comprises a number of silver-base metal veins that define an extensional jog of approximately 3 km in strike length and 500 m of width.
San Manuel-San Gill is a relatively unexplored target with northwest-southeast oriented silver-base metal veins.
An 800 m long, north-south oriented hematic breccia with elevated gold tenor, is a robust gold target.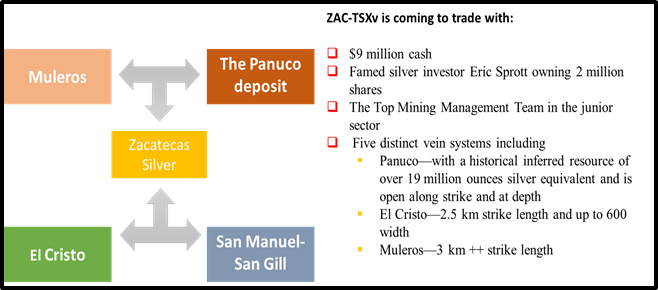 The Property also includes the El Oro, El Orito, La Cantera, Monserrat, El Peñón, San Judas and San Juan silver-base metal vein targets. These targets are relatively unexplored and will be the focus of rapid reconnaissance review. 
Corporate Highlights
Zacatecas Silver completed its financing prior to filing a prospectus, supported by top institutional investors and mining professionals, and did not raise funds concurrent with this go public event.
Under the Company's last completed financing, Mr. Eric Sprott purchased 2,000,000 shares and is one of the largest shareholders of Zacatecas Silver.
Zacatecas Silver is well funded with over $9 million in cash to carry out an extensive drill program onsite including at the Panuco Deposit, at the Veta Grande vein extension target and on other high priority exploration targets.
Apart from the solid financial status, another thing that Zacatecas Silver has going for itself is good timing.
It's launching these silver exploration projects at a time when there demand for this precious metal is on the rise.
Speaking in an interview with Rich TV Live, Bryan Slusarchuk, Zacatecas CEO explained, " we think now we're on the cusp of what's potentially a once in a generation silver ball. And that's of course, because of not only the investment demand, but the huge growing demand for silver in electrification."
"We are big believers that macro conditions for silver have never been better," Slusarchuk told Equity Guru. "It is also undisputable that Zacatecas is one of the world's best addresses for high grade silver. To acquire a project with historic high-grade intercepts, an inferred mineral resource with expansion and exploration upside is very timely".
"Our team has created significant shareholder value for precious metals investors during the bear market," added Slusarchuk, "and now with a precious metals bull starting, we are ideally positioned in terms of technical expertise and capital markets ability to continue delivering excellent potential upside going forward."
According to the figures projected by The Silver Institute, the demand for silver is expected to increase to 1.025 billion ounces this year. This is the highest level it's ever reached in the past 8 years.
As at listing, Zacatecas Silver had 52,362,715 common shares issued and outstanding, no warrants and 5,100,000 incentive stock options.
Slusarchuk revealed that the company had managed to raise up to $10 million through the public listing.
The company plans to use these funds primarily for resource confirmation and expansion at the property. He stated, "we will use the funds for resource confirmation drilling and work including metallurgy."
"We will use it for resource expansion at our Panuco Deposit. We'll use it to test the dozens of exploration targets we have on this huge land package, including, what we interpret to be an extension of the Veta Grande vein system onto our property," concluded Slusarchuk.